It's a surreal time to be a Vikings fan.
Following franchise quarterback Teddy Bridgewater's devastating leg injury that kept him out for all of the 2016 season, the Vikings traded for temporary franchise quarterback Sam Bradford from the Eagles in order to stay competitive for the year. While they failed to make the playoffs for a 2nd year in a row (meaning they didn't make it like they did in 2015), Bradford helped guide the team to an 8-8 record despite constant injuries and arguably the worst offensive line in the league. He threw 20 touchdowns to just 5 interceptions and his 71.2 completion percentage is an NFL record.
Following the 2017 season, the team will face a tough decision regarding the quarterback position. Earlier this year, the Vikings declined to pickup Bridgewater's 5th year option, and he'll most likely miss the 2017 season as well. When 2018 comes, will they return to Bridgewater or continue to roll with Bradford?
Debates between these two quarterbacks can get intense in the state of Minnesota. One side feels Teddy is the true franchise quarterback, while the other feels the team should continue to roll with the healthier quarterback in Bradford.
My take is that I think both quarterbacks are really good and undeserving of the scrutiny they've gotten outside of Minnesota. So for this article, I'll do a comparison between both quarterbacks, highlighting what areas they play their best in and which is better in certain areas.
Without further delay, let's compare both of the quarterbacks in selective traits.
Decision Making
Sam Bradford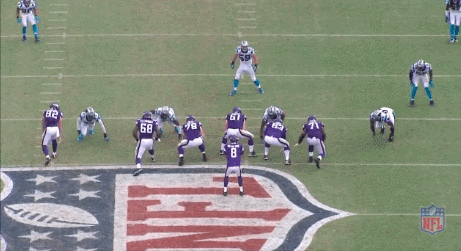 Bradford is a poised passer despite his reputation as a checkdown machine. The reason he's like that is due to the lack of quality of the offensive lines he's been behind, making it impossible for the routes to develop in time for him to get rid of the ball. This forces him to check it down to get the most amount of yards possible.
#8 is a smart decision maker though. Unlike Teddy, though, he's put in an offense that requires him to make quick decisions, and in 2016 he succeeded on that end. On the play above, Bradford looks off his receiver (#82), causing the defender guarding him to move along Bradford's eyes. Once the QB sees this, in the snap of a finger he turns back to his receiver, plants his feet, and fires a strike that allows to ball to be delivered safely.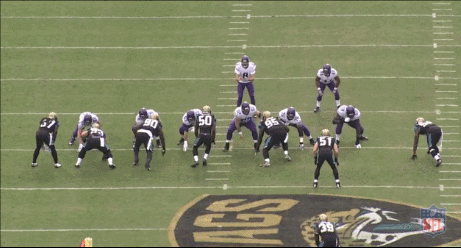 Above, Bradford immediately turns to his left after the snap after noticing a receiver creating separation downfield. His quickness processing the play and his vision allow him to throw a dime outside the numbers. He is exceptionally quick when throwing outside the numbers, making it easier for the Vikings to run vertical routes even if the offensive line can't hold up.
Teddy Bridgewater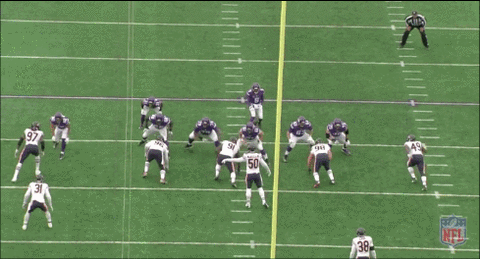 In stark contrast to Bradford's quick decision making, Bridgewater has played in a offense that allows him to be more patient. This is partly due to his advanced athleticism in comparison to Bradford. His movement in the pocket is more nimble and fluid, allowing him to make decisions on the fly.
On the play above, Bridgewater sees that none of his routes are open, so he moves around the pocket in an attempt to find an open receiver. This instead creates an open gap at the middle, which Teddy sees and takes advantage of. This allows him to hurdle his way into the end zone for the touchdown, showing off his patience in the process.
With this said, Teddy has shown some plays where he releases the ball quickly.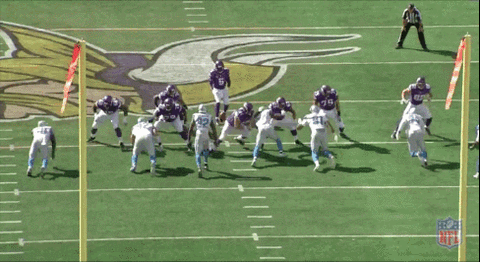 On the play above, Bridgewater makes an aggressive move firing this pass into a tight window. The closest Lions' defender at the catch point isn't looking, and Teddy knows this beforehand (he's too busy guarding another receiver) and fires a perfect pass to his receiver. He does an excellent job of diagnosing the coverage and finding his receiver.
Winner: Teddy Bridgewater
Both Bridgewater and Bradford are excellent decision makers, but while Bradford is able to make quicker decisions downfield, Bridgewater is able to make more decisions on the fly, so he barely gets the edge in this category.
Arm Strength
Sam Bradford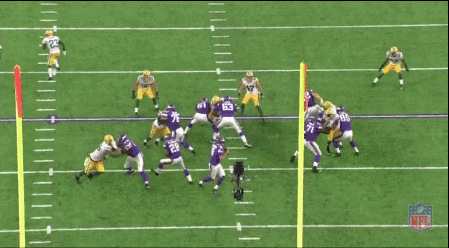 I've talked a lot about arm strength recently, so this is redundant, but still needs to be said.
Sam Bradford's arm strength is phenomenal. He is capable firing rockets and throwing from any angle/position of the field, and is also capable of processing the long ball throws quickly. The above play is a perfect example. With anticipation, Bradford fires an absolute laser that is right on the money to his receiver.
A decent amount of quarterbacks could make that throw, but can't do it as consistently or as accurately as Bradford.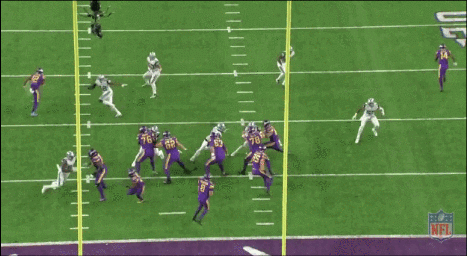 Bradford is an anticipation thrower. He usually does a great job of finding the open receiver and locking on to a spot where he can catch the ball without interference, and for a QB with limited mobility, that's crucial.
This throw combined with the arm strength is unreal. He notices one of his receivers has an angle in traffic, and Bradford uses that to his advantage. He's able to direct his receiver away from said traffic by placing it only where he can make the catch. The pass rockets through the tight window and is right into the hands of the intended target. It's a beautiful throw and a perfect example of Bradford's arm talent.
Teddy Bridgewater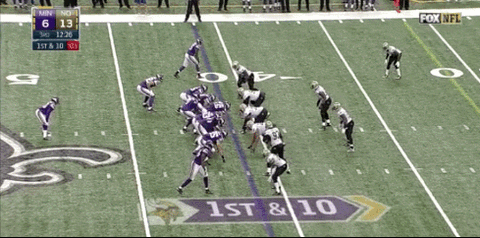 Bridgewater's arm strength doesn't make him a big downfield passing threat, but from time to time he does have enough zip on his passes. On the play above, for example, he shows he's capable of executing a strike on the run with this first down completion. His arm strength isn't great, but it is quite good, and it has decent control on all aspects of the field.
Winner: Sam Bradford
Bridgewater simply can't compete in this area. Bradford's arm talent is one of the strongest in the NFL and is far advanced in comparison to Teddy's. This additionally makes him a superior downfield passer as well.
Play Under Pressure
Sam Bradford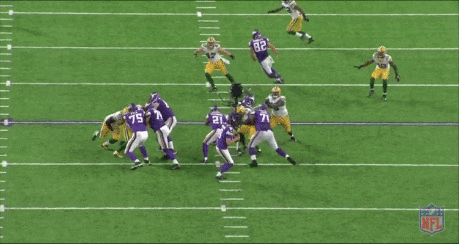 Sam Bradford has a reputation for being a "deer in the headlights" in the pocket. This is strange, because in 2016, I thought he showed extreme awareness in the pocket, and what better time to show awareness than when under pressure? The Vikings offensive line is perfect practice for pressure plays.
In spite of his limited mobility, Bradford is great under pressure. The collapsing protection doesn't affect his mechanics, as he's able to concentrate and stay disciplined on the play. The throw above is electrifying. Bradford's footwork makes a slight adjustment when he sees pressure, without the awkwardness or stumble. Unless you're a deadly accurate quarterback, you cannot backpedal in these situations, because it will affect the accuracy of the throw.
This throw is fantastic not just because Bradford gets hit the second after releasing, but because of the placement as well (more on that later). It's well out of reach of the defender's hands and far enough that Stefon Diggs can make a play on it. It's an awesome, awesome play under pressure.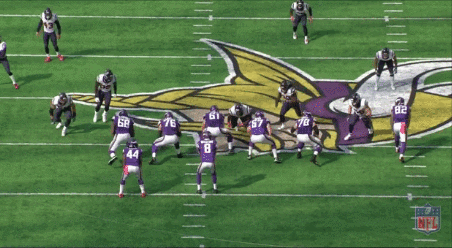 On this play, a linebacker goes undetected and rushes up the middle to drill Bradford. The QB sees a player open cutting across the field on a shallow crossing route. He uses his eye movement to direct traffic away from the spot he's throwing to and side arms it to his receiver just as he gets hit. The pass is perfect, and proves that Bradford is a wizard under pressure. With an offensive line that doesn't give him any time to react, his reaction is a lot better than it's given credit for.
Teddy Bridgewater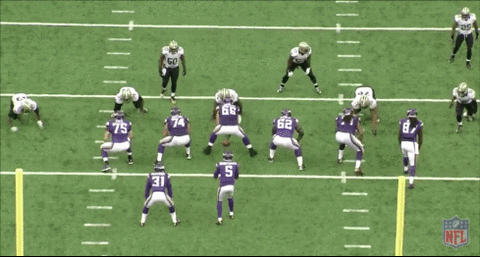 Bridgewater is also a master under pressure. His advanced mobility allows him to create plays under pressure, like Bradford helping to make the offensive line look so much better. On the above play, Bridgewater doesn't waste any time stepping up in the pocket, as he recognizes pressure immediately. The space he's in becomes more and more condensed as he climbs up, yet he's somehow able to get the pass off to an open receiver. It's an excellent play made even more impressive considering this was his first career game.
This might be the most impressive play of Bridgewater's career, and it's similar to the throw Andrew Luck made in the 2014 wild card game against the Bengals. He climbs up the pocket once the protection collapses, scrambling before finding a receiver to throw to. Despite being tackled to the ground as he's throwing, he doesn't lose his concentration, and is able to get a breathtaking throw off before his knees hit the ground.
Winner: Both Sam Bradford and Teddy Bridgewater
Both quarterbacks play really well under pressure in their own ways, so this time this category results in a tie.
Accuracy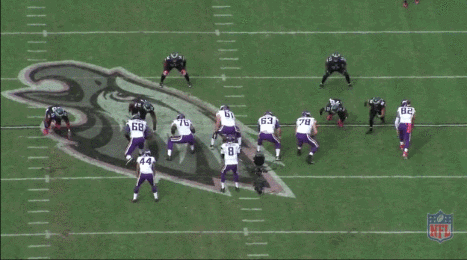 Bradford's league leading completion percentage last year was not a fluke. He is one of the most deadly accurate passers in the NFL, and shows precision from any range whether the window to throw is tight or wide. In the 2016-17 edition of the Deep Ball Project, he was the most accurate downfield passer on all throws of 16+ air yards, and inside the top 5 on throws of 20+.
On this throw, Bradford attacks a tight window with the same degree of anticipation he's always had in his career. The window is tight but Bradford's strength and early release under pressure allow for a perfect pass.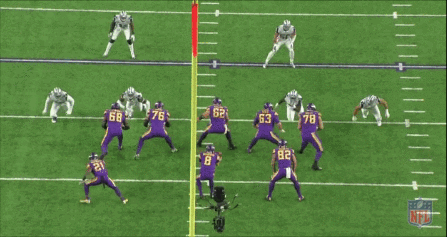 This throw has Bradford leading his receiver in stride away from a potential interception. It's thrown with enough velocity and early enough that all 3 defenders around the ball can't make a play on it. The ball makes it safely as the receiver runs out of bounds.
Teddy Bridgewater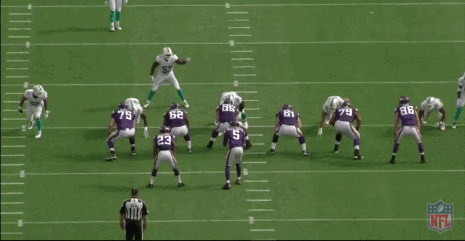 Bridgewater is also a really accurate quarterback. He is able to display near flawless accuracy on all types of short and intermediate passes.
On the pass above, Bridgewater throws right as his receiver is about to turn the corner on his route. Doing this allows the pass to be delivered perfectly in stride so that the defender can't reach it. Had he released the ball later, the receiver may have caught it out of bounds, so his timing succeeds here.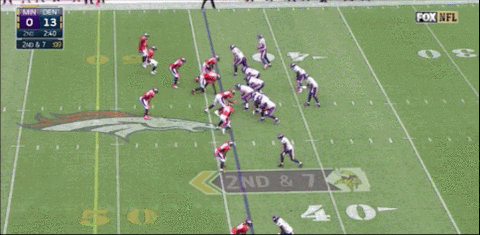 The accuracy on this throw is insane. Bridgewater understands the degree of difficulty the completion of the pass would take, so he lofts it just high enough so that his receiver can make a play without screwing him over, and high enough that the defender can't lay a finger on it. It's a terrific throw.
Winner: Sam Bradford
Bridgewater may be a monster at the short and intermediate level, but Bradford combines that with much better downfield accuracy, so he takes this category.
Movement
Sam Bradford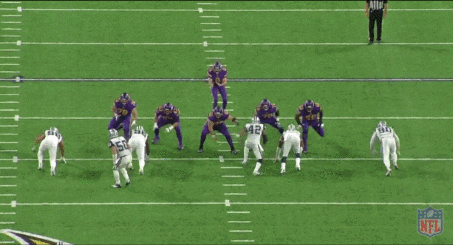 Bradford's mobility is extremely limited, but he is capable of making small movements in the pocket to help better position himself. With that said, he has shown a couple of moments where his mobility suddenly becomes like Bridgewater's, such as the spin move above. Here, he is able to extend the play and fires right when he needs to a receiver on the sideline. The pass is tight but perfectly thrown.
Teddy Bridgewater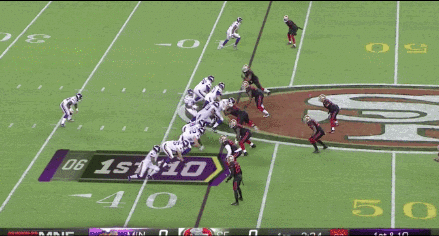 When he was on the field, Teddy Bridgewater was one of the more mobile quarterbacks in the league. He can consistently juke out defenders and play aggressive from outside the pocket.
Above, Teddy shows off the spin move as new Panther tackle Matt Kalil displays his lack of protection. He senses the pressure and spins at the last moment, surveying downfield to find a target that can escape coverage. He extends the play until he's at the line of scrimmage, where every defender is far enough for him to throw safely to a receiver.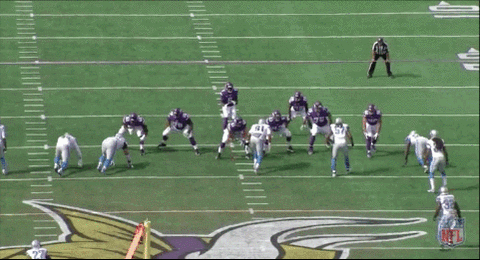 This is also a great play. Bridgewater rushes out of a clean pocket, but in a rare exception it's excused because he is able to detect an open target. He rolls out of the pocket and makes a comfortable sideline throw on the run, where his target is able to make the catch. A great throw rolling out.
Winner: Teddy Bridgewater
Bridgewater wins this one easily, as he is much more mobile than Bradford is, who is limited to subtle movements inside the pocket for the most part.
Health
Before Minnesota, Bradford's previous 3 seasons saw him struggle to stay on the field. He didn't even play in 2014 due to an injury suffered against the Browns in the preseason. So seeing him play every game he was assigned (He didn't play in week 1 because the coaching staff didn't want to rush him as he was recently traded to the Vikings) under the worst line he's played behind was of course completely unexpected.
With Bridgewater still recovering from his leg injury, this one is easy.
Winner: Sam Bradford
Conclusion
Sam Bradford and Teddy Bridgewater are both really good quarterbacks in my opinion, and have much more to their skill sets than people will give them any credit for. Only being able to choose one quarterback to keep is extremely tough, and the Vikings will eventually have to answer that question after the 2017 season, providing that both quarterbacks are healthy by then.
Ultimately, I have to give the nod to Sam Bradford. Bridgewater is the superior quarterback on broken plays, but Bradford provides a better fit for the vertical style of offense the Vikings want to run. His arm strength and quick decision making allow him to process reads further downfield, and unlike Teddy, he's healthy for a change.
Again, coming to this opinion was difficult for me to do. Both quarterbacks are great under pressure, at decision making, and at accuracy. But Bradford provides the better skill set for downfield throws as well as durability, and it's unclear if Bridgewater will ever be the same quarterback he was when he comes back.
Right now, this is Bradford's job to lose, and if his 2016 season is of any indication, and as long as he stays healthy, it will be nearly inconceivable for him to lose it.
Featured image via startribune.com