Cam Newton was the best quarterback of 2015. Winning MVP and carrying the Carolina Panthers to their first Super Bowl appearance since 2003, Newton's level of play guided the team to a 15-1 record and their third consecutive NFC South title.
Expectations for Carolina and Newton were about the same in 2016, but then, everything came spiraling out of control. With injuries to key players and a much tougher schedule, the team finished 6-10 and missed the playoffs for the first time since 2012.
Newton's numbers have also been scrutinized. Putting up the league's lowest completion percentage (52.9%) while throwing for 3,509 yards, 19 touchdowns and 14 interceptions, this for many was enough to drop the QB out of the top 5 or top 10 discussions. In addition to fans and analysts citing that Newton has to show improvement for the Panthers to make it back to the Super Bowl, this sets up the idea that he had a major regression last year.
The NFL is populated by analysis that is rooted heavily in raw statistics, so from their perspectives it makes sense to suggest Newton did not have a good year. With these stats, however, it's critical to point context into why they happened, which is a mistake many stat buffs make.
For instance, Newton's accuracy has always been brought up, but this is usually done without context. The Panthers run one of the most aggressive passing games in the league, regularly pushing the ball downfield and calling vertical routes religiously. Research tells us that every QB will see their accuracy decrease on long passing in comparison to short passing.
The issue is that when you play behind an injured, beaten up offensive line and throw to receivers that cannot catch, create separation, run the correct routes or win at the catch point, your completion percentage is of course going to suck. That's not to say that Newton is the most accurate passer in the game, but his accuracy is better than people think it is. In the 2016-17 edition of the Deep Ball Project, Cam's accuracy on throws of both 16+ and 20+ air yards was 8th for the year. This came despite a league worst completion percentage.
To explain why Newton's downfield accuracy was so good in 2016, it's appropriate to start with a more obscure method of analysis; Looking at his receivers. The Panthers have one of the worst receiving units in the NFL, as stated previously, and have consistently ruined big plays from their quarterback. This is not relatively new (It's happened for the last 3 years as far as I can tell), but along with the injured offensive line, caused Newton's stats to crumble.
Famed Irish NFL analyst Cian Fahey stated in his 2017 QB Catalogue that Newton experienced the 2nd most failed receptions (throws the receiver should have caught) of any team in 2016 with 59 failed receptions (only behind Aaron Rodgers who according to Fahey witnessed his receivers leave 67 catches on the field). Newton lost 845 yards on these passes, also 2nd to Rodgers' 875. (Fahey also noted that Newton's accuracy percentage dropped below 70% in four of the last five games of the season, and he had an accuracy percentage of less than 60% in 3 of those 4 games. That was critical in making his overall completion percentage and the accuracy percentage Fahey gave him look far worse than they would have been with a healthy Newton.)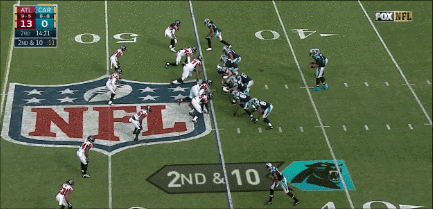 Kelvin Benjamin was a part of the legendary WR Draft Class of 2014 (a class that includes Odell Beckham, Mike Evans, Sammy Watkins, Martavis Bryant, Jarvis Landry, Brandin Cooks, Allen Robinson, and UDFA Allen Hurns), but he's heading closer to bust territory at this rate. Despite his size, he's a receiver that lacks discipline in every area that counts. Above, Newton fires a catchable pass to Benjamin. Benjamin creates little separation on the play, and when he does get his hands on the ball (theoretically), he can't get himself to haul it in.
The pass needed a good play from the wide receiver to complete it, but at the same time it was still an accurate pass. Benjamin's inability to separate and soft hands botches this opportunity.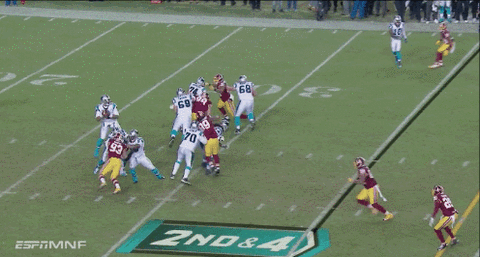 Ted Ginn is notorious for his poor ball skills, and in 2016 proved no different. Where in 2015 he went on a 2nd half stretch where he was able to minimize the amount of drops he had, they came back full force the next year.
On this play, Newton fires a perfect pass that should be a trip to the red zone if caught at the very least. For some odd reason, Ginn keeps waving his hand up long after Newton fires it as if he was making a fair catch or was Randy Moss. He drops the pass, the sun is hot.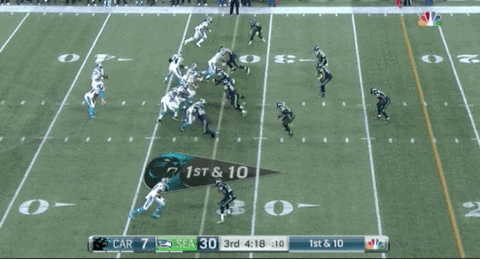 This pass to Ed Dickson triggers the same result. It's a beautifully thrown ball that bounces off the hands of Dickson, wasting a touchdown. It's a theme that followed the Panthers from week 1 until week 17.
Combine that with Newton playing through injuries in the 2nd half of the season, and the 2016 Panthers were an utter disaster.
Despite these setbacks, Newton's quality wasn't that far off from his MVP season in 2015. In fact, it actually was great for a large part of the season.
Cam Newton's been able to carry bad offenses for his entire career in the NFL because he's one of the league's top quarterbacks. When he won the MVP, it was during a season where Carolina played a soft schedule. This allowed the supporting cast to look better than it actually was, but Newton's high quality play remained unchanged, just with monster stats.
It's an outlier for the quality of the offense around Newton, but not for Newton himself. With something like the Steelers' offensive line and receivers around him, he'd consistently put up massive numbers every year. That's not a strike against a great QB like Ben Roethlisberger, that's just showing how he's been able to have a good supporting cast, which is what the Panthers need to do with Newton.
But before I get too carried away, let's take a look at why I think Newton was still a great quarterback in 2016, looking at what truly defines him as an underrated great.
Newton's ability as a run threat is obvious. As a dynamic passer and runner, his ability gives the Panthers offense multiple dimensions to work with. He is quite known as a runner, and he's also one of the best passers in football.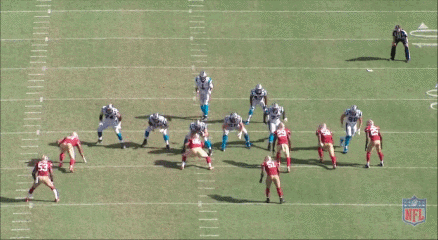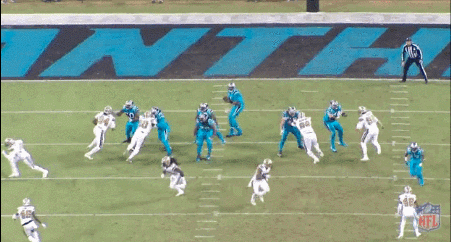 As previously mentioned, Carolina runs an aggressive passing offense that encourages pushing the ball downfield, and this is because of Newton's playing style. He is one of the league's hungriest QBs in terms of further pushing the ball, aggressively attacking tight windows with precision passing and throwing receivers open even when they aren't.
In the first play above, Newton works a pocket that gets more condensed as time goes by. While his mechanics are awkward (he doesn't really step up), it doesn't matter because of how strong Newton's arm is as well as the accuracy of the throw. The pass is sensational, leading his receiver to a spot where he can make a catch without being contested with, all while the ball is thrown over everyone's heads. Newton's anticipation allows him to be aggressive without constantly being punished, and similar results happen in the 2nd play.
One of the more defining aspects of Newton's style is in his arm. The range at which he throws as well as the maximum velocity and precision he has on downfield passes give him an otherworldly quality.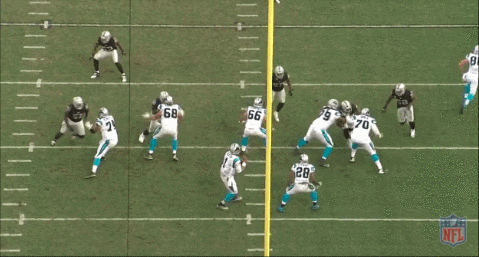 Newton is gifted at throwing 50-60 yards downfield without the need to step into his throws. He is rare in that while his mechanics and footwork are sloppy, they don't really harm him, as he is comfortable from these angles and consistently throws with accuracy downfield. On the play above, the way Newton throws suggests an awkward desperation pass, but further inspection reveals that his feet were pointing at the place he was throwing Ginn open. The pass is thrown without Newton stepping in and is on time, resulting in an incredible touchdown throw.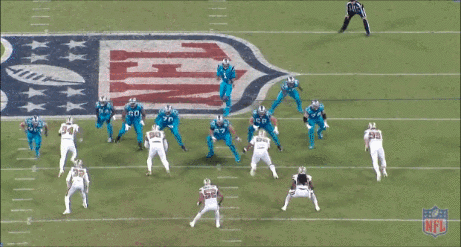 I consider this play one of the five best throws of the 2016 season. As Newton's pass protection decreased until a small circle surrounded him, he climbed up the pocket and fired in the back corner of the end zone to Ginn. While it was initially ruled incomplete, the replay revealed that it was a touchdown pass, and the ruling was changed. The pass is sensational not just because of the delivery and accuracy, but because of the pocket Newton was working with.
And when it comes to working with condensing pockets, Newton is one of the best, if not the best, quarterbacks at handling them.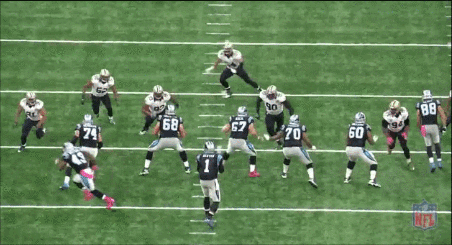 Like all other great quarterbacks, Newton's quality of play thrives under pressure. He's always looking down the field to give his receivers a chance to make a play even if the pass protection sucks. On this play, the Saints' front 7 pushes the pocket into Cam, but he keeps cool in spite of this. He isn't even phased by as he makes multiple reads before moving to his right to find a wide open receiver. He gets the pass off before getting thrown to the ground.
Newton is one of the more notable examples of mobile quarterbacks in the NFL. His peak mobility isn't at the level of Aaron Rodgers, Russell Wilson or Matthew Stafford, but it's still quite good.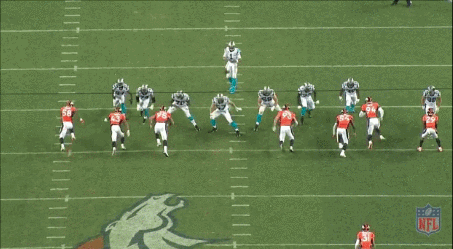 This play was offset by a holding penalty on Carolina, but it still shows the intelligence and movement the QB makes under pressure. He's able to break free of a tackle and climbs up the pocket, choosing to release the ball right before taking a shot to the head (a penalty should have been called).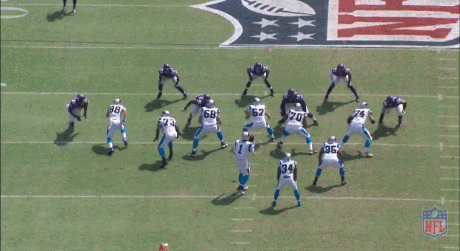 Newton's mechanics may not be "normal", but they remain about the same when the pressure closes in. His movement is terrific; he'll make subtle movements to ease himself away from pressure and maximize the results of a play. This play combines most of Newton's traits. He's able to sidestep an edge rusher, makes quick reads surveying downfield, and fires a precise rocket to his receiver that gets there before the defender does.
It's indicative of how Newton has played in the NFL.
Conclusion
Cam Newton is still a top 10 quarterback, and his 2016 season, while not on par with 2015, was still a great year. His declining stats were based on the health of his offensive line, the vertical offense he plays in, and the horrible quality of the receivers he throws to.
The Panthers drafted Christian McCaffrey in the first round of the 2017 NFL Draft to try and ease the pressure on Newton. McCaffrey was a sensational running back in college, and offers some of the most exciting play I've ever seen at the college level. His efficiency was tremendous and suggests he can dominate at an NFL level instantly. They won't rush him behind Jonathan Stewart, an excellent and underrated back in his own right.
The team also drafted Curtis Samuel to help at the receiving end. Samuel is talented, and could be the #1 receiver for the Panthers by the end of the year.
These two players should be able to offer Newton some much needed help, as well as the return of several linemen. Expectations shouldn't soar too high though, as the offensive line and receivers will still be a problem for Newton. What is important is that he'll be healthy to start the year.
Whatever the case, Cam Newton is a terrific quarterback that is far too underappreciated. What he lacks in being the most accurate passer in the league he makes up completely with his peak level of play. He makes Carolina stay in games each year and gets the most out of a limited cast of receivers.
Carolina must do all they can to insure that they don't waste the career of one of the most talented quarterbacks to ever step into the league.
Featured image via vibe.com