It's been heavily debated as to who the best young quarterback in the league is, with Marcus Mariota, Jameis Winston, Derek Carr, and Dak Prescott generally are in these debates. With so many different answers, no one's really agreed on who the top dog is.
You've already seen my answer by clicking this article.
Marcus Mariota is a sensation. Through two years in the NFL, he's evolved into one of the game's great quarterbacks, becoming someone who has not only met his potential, but exceeded it. Though his 2016 season ended like the last with an injury, Mariota established himself as one of the league's young stars, and because of him many have predicted that the Tennessee Titans would clinch the AFC South in 2017.
At 23 years of age, few quarterbacks in the league have progressed as quickly as Mariota has. He has traits that future Hall of Fame veterans have in just two years of experience, and is ahead of the curve against his peers.
For this article, I will explain what makes Marcus Mariota stand out as the game's best young quarterback, then explain why I think he has the edge over Winston, Carr, and Prescott. So let's get this started.
What Makes Marcus Mariota Stand Out
Mariota's 61.6 career completion percentage is misleading. He plays in a vertical offense that doesn't fit his skill set, calling for many downfield passes instead of a heavy focus on the short/intermediate range, which is where he's truly dangerous.
Mariota is the one of the most accurate passers in the league. He's capable of threading the needle into tight windows with relative ease, and he expanded upon this in his sophomore year.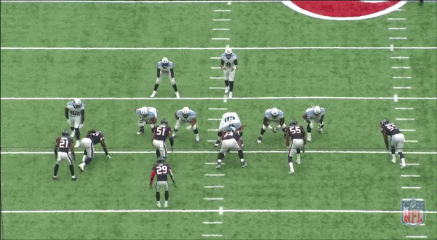 Mariota's arm talent does not stand out, but to make up for it, he has a quick, smooth release that has the ball seemingly out of his hand as soon as he plans to throw it. On this throw, Mariota does so as soon as he sees an opening. He is comfortable with throwing receivers open and doesn't need them to create openings for him to release the ball, making him a master of controlling traffic.
Of any quarterback I've ever watched, Marcus Mariota goes through his reads the quickest. His process in this stage is not human, as he'll cycle through his reads at lightspeed until he finds the most comfortable route. On the above play after moving out of the pocket, Mariota cycles through his reads in just 2 seconds before finding a guy he consider open. He makes a perfect throw without breaking a sweat. It's like how Tom Brady is able to pick apart the open receiver with the flip of a switch, though Mariota has more athleticism and can do this on the fly.
Mariota also has the ability of Philip Rivers to manage the pocket under pressure. He's often stereotyped as a scrambling quarterback when he's the exact opposite, and that comes from playing in a "spread offense" in Oregon. Sure, he had plenty of running plays, but also show cased in that offense that he was a pocket passer with a cool, collective poise.
Like Rivers, Mariota has a quick throwing motion and can handle pressure without altering his mechanics. Above, the Titans' offensive line doesn't pick up pressure, and the QB is surrounded by swarming defenders. An experienced QB under pressure would be able to make this issue secondary and focus on the task of completing a pass. Mariota doesn't flinch at all, and his pass makes it to his receiver just before he's hit.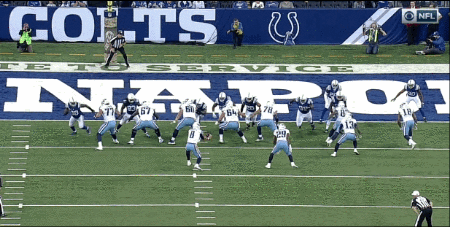 Continuing a look at him under pressure, the play above is terrific on the part of Mariota. He simultaneously sees a defender about to smash him and DeMarco Murray open. Keeping his eyes up, he evades the defender at the right time and fires to Murray in a spot where the guy guarding him can't reach because of where his momentum is carrying him. The touchdown pass as a result is perfect.
Mariota's mechanics are among the fastest in the league, if not the fastest. Whether protected or unprotected, his delivery and footwork are always smooth and his poise never seems to break down when the protection does. The above play features good protection, but it's enhanced by Mariota's pocket movement and release. He's able to catch Delanie Walker with an opening, and climbs up, jumps, and throws across his body to where Walker can make a clean, uncontested catch with no one guarding him. A great play from the quarterback.
Mariota would be good enough with these traits alone, but he has a special talent that truly ascends him into a top 10 quarterback; his eye movement.
Marcus Mariota can read defenses perfectly fine, but he goes a step beyond and is able to move defenders with his eyes to create openings for his receivers. This allows him to throw "no look passes", where he's not even looking at the place he's throwing to, but it doesn't matter because the passes arrive on time and in stride.
It's unlike anything I've ever seen, so let's look at some examples.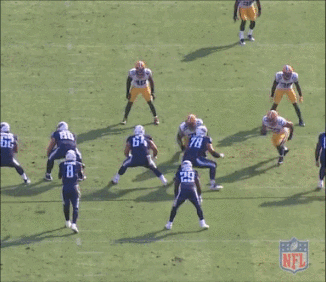 At first, this seems like a brutal mistake from the safety in the middle, but at closer glance, you can see Mariota staring directly at him. He's in his zen like trance where he notices one of his receivers has separation on his man, but he knows that he can't simply just throw looking at the spot he wants, otherwise it's an easy interception. Combining his quick release, Mariota fakes out the defender by turning his head as he releases the ball, making the defender look like a clown and making the completion look easy in the process.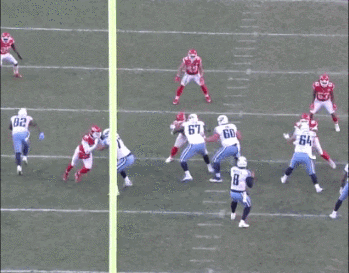 On this play, the defensive back (#49) thinks Mariota is staring down a receiver and that he has easy pickings for an interception. In reality, Mariota is actually staring down the defensive back. He falls for the QB's trap, as he throws a receiver open with a perfect pass and delivery. This comes from the Chiefs game where coach Mike Mularkey made several questionable decisions including a botched two point conversion attempt. Mariota truly carried the team in the 4th quarter and helped pull an upset at one of the deadliest opposing arenas in the league.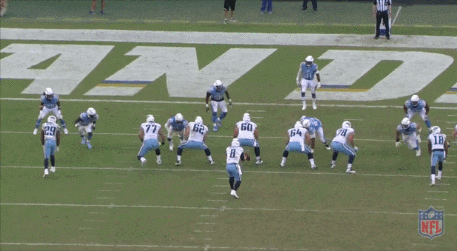 This last play is Mariota's best throw of his career, and one of the best throws I've ever seen. He's able to control the momentum and movement of two defenders this time, and impossibly threads the needle between both backs for an improbable touchdown. For any other active QB, this wouldn't be open. For Mariota, he creates route openings with his eye movement and fits the ball perfectly into areas most quarterbacks wouldn't dream of attempting. This pass is otherworldly as a result.
What About the Other Young Quarterbacks?
So I've made my case for why I think Mariota is the best young quarterback in the league, but why not Jameis Winston, Derek Carr, or Dak Prescott? Below, I'll explain for each quarterback.
Jameis Winston
Jamies Winston is a truly gifted athlete. His ability to manage pockets, extend plays to the point where he squeezes the last amount of juice out of them, poise, and arm strength are all first class. The problem is that his accuracy is terrible. He constantly misses receivers by miles and lacks the consistent touch that Mariota has, even if his accuracy is better. I actually found that while Mariota wasn't a good deep passer, Winston was even worse. 
Winston does so many things right, but if his accuracy was even mediocre, he'd not only be the best young quarterback in the league, but also a top 5 guy.
Derek Carr
Many people think Derek Carr is a top 10 or top 5 quarterback. NFL Network recently put him 11th on their annual list of the top 100 players in the league (as voted by actual players). I'm not one of those people. As I've stated in the past, Carr's career progression has been impressive, but his mechanics and play under pressure simply can't compete with Mariota's. This is strange considering the excellence of the Raiders' offensive line in comparison to the above average offensive line of the Titans. In addition, his receivers and scheme give him so many more chances to create plays, with Amari Cooper and Michael Crabtree constantly creating separation and making Carr's job a lot easier.
Carr is clearly a better downfield passer, but he also has struggles with releasing the ball, as he often fires prematurely in clean pockets when he needs to let routes develop or buy time with his protection. He's a good, but not great, quarterback at this stage of his career.
Dak Prescott
Out of any quarterback compared to Mariota, the rookie is the one I would put closest to. I've found Prescott's ability under pressure (despite the Cowboys OL) and his pre snap ability to be much more advanced than Carr and his accuracy to be a big step up from Winston. When compared to Mariota, I have him as the 2nd best young quarterback in the league. Still, Prescott doesn't have the level of MM's ability to anticipate openings, and he's not as accurate.
Still, for rookie standards, Dak Prescott was sensational, but he has a long way to go before he's on Mariota's level in my mine.
Conclusion
Marcus Mariota is a great quarterback already. The problem is will it be enough under Mike Mularkey? The coach received praise for guiding Tennessee to a 9-7 record after winning just 3 games the previous season, but this was really because of the run combo of DeMarco Murray and Derrick Henry and Mariota's ability to carry a flawed team out of tough situations.
The problem with Mularkey's coaching is that he calls too many vertical plays without spreading out receivers. It limits the amount of options Mariota has, and leads to failed plays or interceptions. He also is too attached to the idea that Mariota is a scrambling passer instead of a pocket QB (though to his credit, as the season went on more plays asking Mariota to play in the pocket were called) that he is. The 4th quarter of the Chiefs game was a perfect example of Mariota transcending bad coaching into a win for the Titans.
Fortunately, Mariota has a fine offensive line, but the receivers are a different story. We know Delanie Walker is great, but Tajae Sharpe was a disappointment in his rookie season, and Rishard Matthews, while explosive, is also inconsistent with catching. Harry Douglas can't separate or show off ball skills, so his presence for the most part has been useless. The team has added Eric Decker and Corey Davis in hopes of upgrading the receiving corps, so we shall wait and see how that goes.
Regardless, Marcus Mariota's level of play is sensational for a guy entering his third season. He's deadly accurate, extremely quick with his reads and mechanics, can handle pressure and move around the pocket like a pro, and plays the game of turf chess where he moves defenders with his eyes and creates openings for his receivers. He's a special player and a top 10 quarterback, and as long as he stays healthy, he'll continue to go that route.
That all adds up to Marcus Mariota being the best young quarterback going into the 2017 season.
Featured image via nashvillesportsnetwork.com