By now, Colin Kaepernick's kneel down during the National Anthem in 2016 has been imprinted inside every football fans' heads. Done to protest what he felt was the oppression of blacks and people of color, his decision to kneel for the anthem has been met with both praise and criticism.
Front offices turned on Kaepernick completely, disgusted at how he would even kneel down and not stand up for the most iconic American symbol. Even when he got his starting job back from Blaine Gabbert later in the season, it was clear that the 49ers weren't going to keep him after the season. He opted out of his contract with San Francisco in March, making him a free agent.
From then on out, he's gotten very little interest from teams. From Roger Goodell saying the league's lack of interest was football related, to Spike Lee prematurely congratulating Kaepernick on a gig with the Seahawks that he was never offered, to teams like the Jets signing Josh McCown over him, it's been a rough year for what once was a football sensation back in 2012.
Some applaud Kaepernick for taking a stand against the system and its corruption. Others feel he did it for attention and to get his starting job back. One thing is certain: You can't bring up the former 49ers quarterback without getting a polarized reaction from whoever you talk to. Some people think he isn't even good enough to be a backup, and MMQB writer Andy Benoit wrote that he saw 15 backups that were better than Kaepernick.
Take my word for it. Colin Kaepernick isn't a backup quarterback. He isn't a third stringer. He isn't even a guy that can make the practice squad. He's a starting caliber quarterback.
When he took Alex Smith's job in 2012, he was one of the most exciting players to watch. Featured in San Francisco's run heavy read option offense, Kaepernick took full command and led the team to a Super Bowl appearance, as well as another NFC title appearance the following season. And when it comes to postseason stats, Kaepernick has actually done really well in January.
You can say that Kaepernick never played as good as 2012 for the next 3 years, but looking deeper, I don't think you can say the same about 2016.
A Look At Kaepernick's 2016 Season
It's true that the San Francisco 49ers went 2-14 in 2016, 2nd to the Cleveland Browns for the worst record in the league. Head coach Chip Kelly was fired after one season with the team, and Kaepernick went down with him. The general consensus is that Kap has gotten worse since 2012, to the point where he couldn't be a functional quarterback.
Taking a look at it myself, I found I was coming away from it with the opposite feelings. Colin Kaepernick's play was not only a step up from previous seasons, but was actually a pretty good year overall, and that's not even looking at the 16 touchdowns to 4 interceptions.
You won't see Kaepernick referenced as one of the game's elite passers. He's not a top 5 or top 10 quarterback. What he is is a borderline top 15 quarterback as a starter, a good passer that can explode in a run heavy system. The problem was that in 2016, his supporting cast was bottom of the barrel. The offensive line kept giving up pressure, the run game was almost nonexistent, and his receivers were among the worst in the league, creating zero separation and leaving plenty of plays on the field.
With that said, Kaepernick experienced growth in 2016. No longer was he just a run exclusive quarterback. He was doing things he showed in brief spurts in past seasons. His pocket movement evolved to the point where it's become a strength instead of a glaring omission. Instead of making one read then panicking if it wasn't open, he showed greater patience and more instances of him progressing through his reads. He was showing legitimate development. This play would be an anomaly from previous seasons, but in 2016, it was some I was constantly expected Kaepernick to do. Here, Kap notices his initial read is not open, so he uses subtle pocket movement to create space for him to to throw, allowing him to get the pass off to his receiver. At first it looks like an inaccurate pass, but his receiver stops running for some strange reason, even though the pass would've hit him in stride had he kept running. From the same game, this is a very impressive play that continues to show the growth Kaepernick experienced last year. The right edge rusher (Kaepernick's right) gets through the cardboard cutout attempting to block him. In past seasons, this might be a situation where Kap would run completely outside of the pocket while dropping his eyes. Here, that's not what happens. Kap recognizes that one of his receivers has the edge on a defender, so he keeps his eyes up, evades the edge rusher, and stays in the pocket, firing an accurate pass to the open receiver for a nice gain. Kaepernick has always been a guy willing to hold on to the ball, but as these two plays against the Buccaneers show, he combined that patience with a more technical and refined style of play in the pocket. On the first play, Kap pump fakes to create an open lane for him to throw. The distraction allows the receiver to get open and make the catch on the quarterback's throw.
The 2nd throw illustrates perfectly how far Kap's vision and movement have improved. When the pass protection starts to break, he keeps his eyes downfield and moves slightly outside the pocket, picking apart an open receiver with a strike. This last example comes against the Dolphins. Kaepernick's first read isn't open, so he surveys the field, simultaneously climbing up the pocket while locking his eyes up. He evades one defender and climbs up, firing a perfect strike in stride to an open receiver. These are plays people think inferior quarterbacks do better than Kap. Those quarterbacks have an inability to keep calm when the first read is blocked and run themselves into pressure and make stupid decisions like turning the ball over or throwing to the wrong receiver. Kap's improved pocket presence has transcended what was once a limitation for him.
Kap is a polarizing subject and always has been, but what has always been universally accepted is that his peak arm velocity is sensational. It might be the best I've ever seen out of any quarterback. Take the 50+ yard throw against the Saints in 2014 for example.
This was a masterful throw. To have that amount of velocity from that far while doing it on 4th down with the game on the line is legendary. But Kap's velocity has usually been uncontrolled, as he's rifled it fast for most of his career.
In 2016, while that didn't really change, his increase in subtle pocket movement allowed it to be less of an issue. On this play, Kaepernick embraces a common theme from this article: patience, keeping his eyes downfield, and escaping pressure to pick apart the open guy. Here, he does that and rifles a touchdown pass on the other side of the field to an open receiver.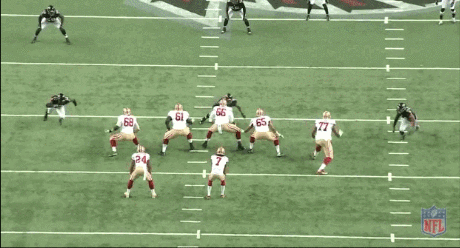 Kaepernick's vision comes on display here along with his arm strength. He does an excellent job making small movements in the pocket to escape pressure while (shocker) keeping his eyes downfield. He throws a rifle across his body to the other side of the field in a similar way to the Saints game from 2014. This can't hold a candle to that play (nothing can), but it is still a terrific play nonetheless.
It's fun seeing Kaepernick use his arm strength to his advantage, and in 2016 he displayed plenty of said advantages. But the footwork wasn't the only improvement, as Kap showed more plays where he progressed through his reads.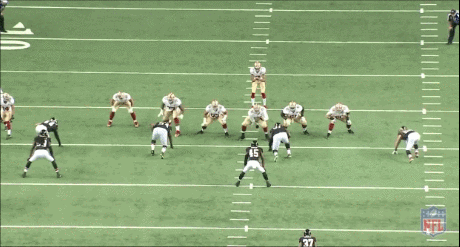 Here, Kaepernick does the unthinkable; he does multiple reads on the same play. Crazy, isn't it? This play isn't spectacular, but it shows that Kaepernick is taking better care of the football while maximizing the results of a play.
But while Kaepernick has become a better pocket passer, he hasn't lost the art of buying time and being a magician on unstructured plays. This play is risky, but displays vintage Colin Kaepernick. None of the receivers are open when the 49ers need a first down, so Kap rolls out of the pocket and buys time. He's able to outrun everyone until he has no room left, and just at the last second, he lofts a pass just over a Pats' defender's head and into the arms of his receiver where only he can catch it. Some people have said this play was dangerous and should've been picked, I think it's a risky play that ultimately paid off.
He also still has a few magical running plays up his sleeve. Conclusion
These are all plays analysts choose to ignore to push a narrative, a narrative that Kaepernick can't start in the NFL. Is it just a coincidence that Kaepernick was said to contribute to a decline in NFL ratings in 2016 and now no team is interested in him? That Goodell continues to say his lack of interest is football related? Or that teams are signing horrible quarterbacks like Josh McCown and Ryan Fitzpatrick (the latter of which divided his locker room in 2016 and blatantly said he could care less about mentoring the young quarterbacks on the Jets) while ignoring a quarterback that has evolved his play and has widened his skill set? To me, it doesn't sound like a coincidence at all.
The pushing aside of Colin Kaepernick isn't because of QB evaluation. It's because he goes against their mindset and what front offices personally believe in. The NFL is close minded. This is a league that is okay with players hitting their girlfriends, committing assault of any kind, being constant off field headaches, playing abysmal in the system, committing arson, or just being dirty players. As long as you stand for the National Anthem, most of these teams will give you a chance if you're talented or cheap enough. And maybe, just maybe, if you play football the right way.
This is the same NFL that has teams calling Kaepernick a distraction and a bad role model yet ignores his charity work and that the only time he's kneeling for the anthem is, well, during the anthem. If you've noticed, there doesn't seem to be any protesting or running on the field during the middle of a game, not one instance. So where does the distraction part come in? Here's a secret: It doesn't. He's not on a team because owners are scared that if they sign him, fans won't tune in to watch them. I think that's pretty clear.
This is a country that claims to be the United States of America, yet can't even agree on a single issue on or off social media. Kaepernick's protests have provided zero exceptions in that regard. But what is agreed upon is that those who have actually given his 2016 a chance generally think it was a good season. No longer was this the work of a run only quarterback, this was the work of quarterback that developed into an improved pocket passer.
Sure, Kaepernick has flaws. His accuracy is decent, but it's not league leading. His downfield accuracy isn't all that. But he's not the same running exclusive quarterback people think he is. That Kap is still unsigned shows just how outdated the NFL's methods of analysis is, because at 30 years old, while his running ability may soon decline, his growth as a passer gives him the chance to extend his career even further. But no one wants to look into that.
There aren't 15 backups better than Kaepernick. He is not an on field distraction or a bad role model. He is not one of the worst passers in the league. Colin Kaepernick is a good quarterback and deserves to start in the NFL.
Featured image via 15minutenews.com