Two of the best young quarterbacks in the NFL are Derek Carr and Dak Prescott. Both were quality quarterbacks in 2016, being praised for having what many considered MVP caliber seasons. Both Carr and Prescott led their respective teams to double digit wins and the postseason.
When it comes to awarding credit, Prescott hasn't received as much as Carr. From a veteran standpoint, this is acceptable, as Carr is entering his 4th season in the NFL while Prescott is only in his 2nd. QBs who have had good rookie seasons have received skepticism in the past and will continue to receive skepticism in the future. The way they can change that is by preventing the sophomore slump.
What is particularly interesting is both quarterbacks have the best offensive lines in the league. I've observed that talk of Prescott's offensive line serves to discredit his play more than it does Carr. If it were down to just being based off of a rookie season, then that would be fine.
But it goes further than that. I started to hear more about how Carr was more valuable to the Raiders than Prescott was to the Cowboys. There is no disputing that the Raiders need Carr. When he went down, the offensive took a major hit going into the postseason without a quality passer steering the ship. But the same can be said of Prescott. When Tony Romo sat out due to injuries in 2015, the Cowboys suffered. Without a great quarterback, the team couldn't operate the passing game, making the offensive line's impact irrelevant. Prescott's presence allowed the Cowboys to rarely miss a beat even without Romo, and he was the main reason the team elevated to 13-3.
Yet even with similar quality in pass protection and supporting casts, why is it that Prescott has people going "It's his offensive line and weapons" but not Carr?
The best way to answer this question is to do a side by side comparison of both quarterbacks, highlighting their skill sets in a way that goes beyond statistical analysis. In this piece, I'll highlight both quarterbacks, then go through who's better and why.
Derek Carr
When the Raiders lost their franchise QB in week 15 against the Colts, it was clear that the season was over at this point. A postseason appearance for the first time since 2002 almost meant nothing without the most valuable player on the field, and it was obvious when Matt McGloin and Connor Cook played.
However, how valuable Carr had been in 2016 was generally overstated. He is a good quarterback capable of elevating his teammates and provides great stretches of play, but he is surrounded by arguably the best supporting cast in the league. McGloin was bad enough, but even worse was Cook. Cook's performance in the playoff game at Houston was atrocious. He was consistently off target in every aspect on the field, and his pocket play was borderline bottom of the barrel.
While Oakland's offensive line isn't quite as good as Dallas', it's right there with them. The pass protection rarely exemplified pressure onto their QB, allowing him to comfortably run the offense and allowing for the system to thrive.
The receiving corps is also a plus. If the duo of Amari Cooper and Michael Crabtree isn't the best in the league, it's at least in the top 3. Both receivers have tremendous skill sets that allow them to adjust smoothly to passes while offering great relief on third down passes, making them great downfield and YAC threats. Seth Roberts is inconsistent with his hands but is a fine route runner and also has a wide catch radius. Clive Walford has seen limited play but is a talented tight end. Cordarelle Patterson isn't a great weapon, but under a good scheme can be quite explosive. The same can be said for Jared Cook. Finally, the receiving back Jalen Richard offers consistent explosiveness as a Darren Sproles-esque back, and his best days are yet to come.
With that said, Carr has come a long way. His rookie season in 2014 was a bad one. His footwork was generally sloppy and his accuracy rarely ever hit the mark with his receivers. That changed in 2015 and 2016 when he improved his accuracy and mechanics, making him operate the offense at a higher level. With cleaner footwork and more decisive playmaking, he helped turn around Oakland's fortune, successfully completing the rebuild and making the team a contender.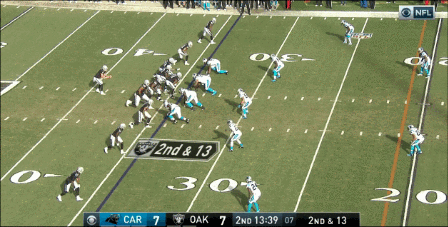 Carr's best trait is in his arm talent, which is one of the league's best. The strength at which Carr throws is impressive enough, but he goes further and combines that with an extremely quick throwing motion. This is shown above. He rarely needs to wind up the ball to make it travel far, which is sensational to watch in practice and on this strike against the Dolphins.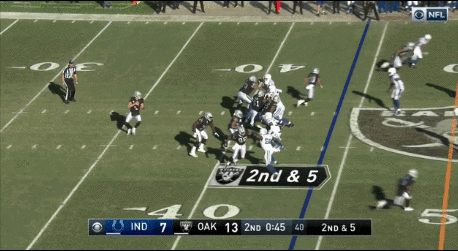 On the play above, Carr flicks this pass outside the numbers to Cooper. The velocity of the pass is insanely quick despite the distance and the placement is perfect, allowing Cooper to haul in the throw.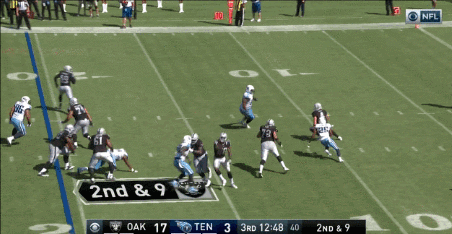 Carr's arm strength works especially well on unstructured plays. Above, Carr does a great job of escaping pressure while keeping his eyes downfield. As he climbs the pocket he notices Crabtree open on the other side of the field and flicks a bomb to him for the completion and the result of a terrific play.
But it's perhaps this play that shows Carr at his best. Here, Carr rolls out of the pocket and flickers a rocket to Crabtree for a massive gain. While he checks out of a clean pocket, Carr makes up for it by keeping his eyes locked downfield. The fact that he just flickers this pass with a quick motion on the run while dropping it right in the bread basket is incredible. His arm is a gift not many passers can say they have.
Carr's arm talent has been a part of him since college, but what hasn't always been there was an ability to operate comfortable in the pocket. In his last 2 seasons, Carr has become a more poised pocket passer.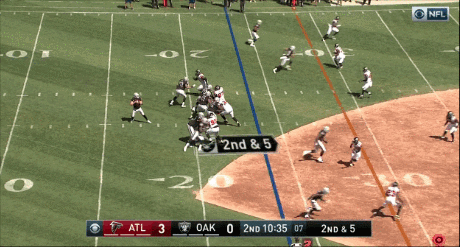 On this play above, Carr holds on to the ball after his initial read isn't open. He sees Latavius Murray open heading to the sideline and wisely steps up in the pocket, allowing for Murray to have more space to grab an easy first down.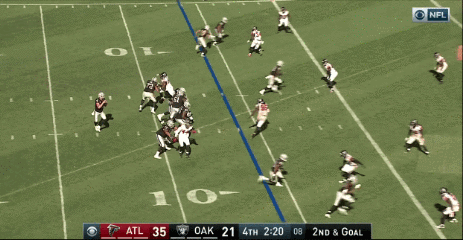 Carr is a patient passer outside the pocket. He can survey the field and pick apart the open receiver without being pressured to get rid of the ball as quickly as possible. This is done in the play above, where Carr is forced outside the pocket. He keeps his eyes downfield and maximizes the play to its best ability. This ultimately pays off as just before he goes out of bounds he is able to find an open target and the last second for a touchdown.
Carr is not a flawless quarterback though. In general, no one really is, but Carr has a couple of flaws that prevent him from being a top 10 quarterback in my mind.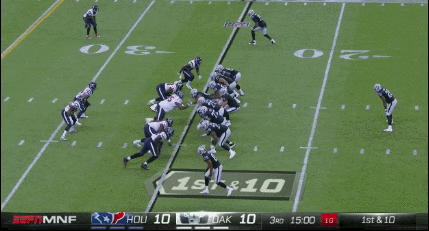 Carr's decision making takes a hit when he's inside the pocket under pressure. He tries to get rid of the ball too quickly for his own good, resulting in decisions that are forced and often lead to turnovers or failed opportunities.
One example is in the play above, Carr hurries under pressure, forcing the ball to a receiver being double covered downfield. The pass is overthrown and picked off. It wouldn't have done Carr any good to hold on to the ball any longer, but because he panicked, the pass was not accurate.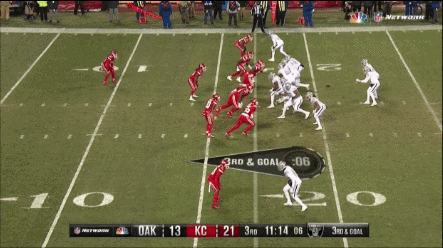 Perhaps Carr's biggest flaw is his reliance on checking down in clean pockets. While he hasn't done it to the extent in which he did it in his rookie season, he's done it enough where it's still an issue.
No game highlighted this more than Week 14 at Kansas City. The Chiefs' defensive line has proven to be an excellent match for the Raiders' offensive line, with the coaching staff regularly showing blitzes to get to Carr.
On the play above, Carr has a clean pocket on 3rd and goal. He is not a QB that is willing to hold on to the ball while in the pocket. He has plenty of time to decide on a read, but forces this pass to Roberts, who is completely covered and nowhere near the end zone.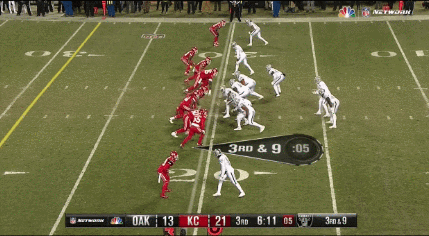 The same thing happens on this play. The Chiefs send another blitz, tricking Carr into throwing to a covered receiver short of the first down marker. Once again, Carr has clean protection, yet forces the pass when he didn't need to. It's frustrating to see because it wastes great protection, and Carr doesn't use the protection as wisely as Ben Roethlisberger, Aaron Rodgers, Drew Brees, or even Prescott. These are all quality QBs with excellent offensive lines. These QBs understand how to take care of the football and maximize plays when it calls for holding onto the ball. Carr does not, at least not to the extent the other quarterbacks do.
With all this said, for the same reasons Carr's flaws keep Oakland's games close, his strengths also help keep them competitive. His development as a good quarterback has been exciting to watch, and his overall arm talent and greater consistency have allowed the Raiders to thrive as one of the league's most dominant offenses.
Dak Prescott
By now, the story of Dak Prescott's rise from a fourth round draft pick backing up Tony Romo to becoming a rookie sensation once the latter QB went down is common knowledge.
The offensive line is the best in the NFL, but it does not guarantee instant success for any QB. When Romo went down in 2015, the Cowboys finished 4-12 with their QB only playing in 4 games. 3 of those wins came in games Romo started. It was clear that Dallas needed a backup in case Romo went down again, and they got that in the 4th round.
But when Prescott became the starter, he was more than just a backup. His surprise success awarded him the Offensive Rookie of the Year and he led Dallas to the #1 seed in the NFC.
When it comes to receiving corps, Oakland's stands tall above Dallas'. Dez Bryant is an obvious great, but outside that the group is lacking. Jason Witten is old and washed in comparison to who he once was, and Terrance Williams and Brice Butler are both frustrating at the catch point. Cole Beasley is a fine slot receiver, but when compared to Oakland's group it can't hold a candle. Dallas did draft Ryan Switzer, a speedy slot receiver who should be able to give the Cowboys offense another YAC threat as he works his way on the field.
Regardless of cast, while he's been set up to succeed, Prescott hasn't simply been the bus driver behind the offensive line. He's elevated his teammates and made everyone around him better, and is already a top 15 QB already after one year.
Like Romo, Prescott excels at pre snap reads. He is capable of diagnosing defensive coverages before the snap and changing the play to where it can maximize the potential for success. Credit should be given to the Cowboys' coaching staff for not preventing him from audibling, a mistake Joe Philbin made with Ryan Tannehill during his years in Miami.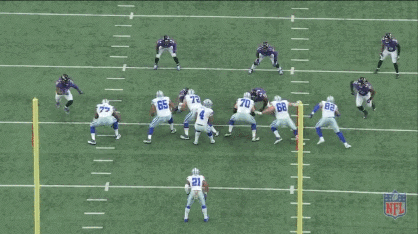 Post snap, what stands out most about Prescott is his patience. You don't expect many QBs to have the patience Romo had, especially not a rookie QB, yet Prescott was able to be in the same ballpark in that area. He is willing to hold on to the ball if his first read isn't open, and will make the most of the protection he's given.
On the designed rollout above (he is also a running threat), Prescott surveys the field. His first read on the right side is open, but short of the first down. He spots Beasley crossing to the middle of the field, but also notices the underneath linebacker approaching. With most rookie QBs, especially one drafted at the spot Dak was, this would lead to a rushed throw that would end in a bad misfire or a pick. That's not the case here. Prescott resets his feet and throws Beasley open. The result is a perfect strike for 14 yards.
This play is sensational not only because of the placement, but because Prescott knew he was going to get hit after he released the ball. He just didn't care.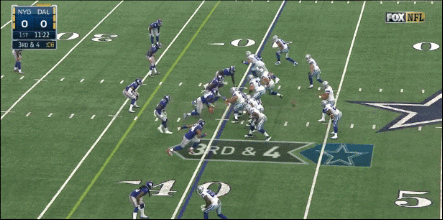 Prescott's patience again benefits him on this 3rd down play. He's able to go through his reads and notices Beasley open near the first down marker. With a defensive back (#52) ready to pounce, Prescott uses his eyes and movement to shift the back away from Beasley. When this occurs, he immediately shifts focus to Beasley, firing the quick strike for a first down.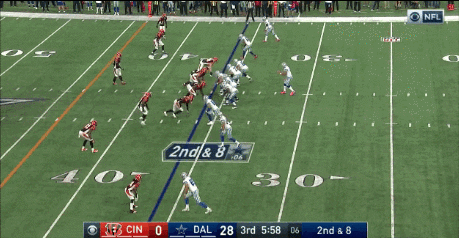 On this play, Prescott steps up in the pocket, and he waits for the receiver to get as outside as possible before firing to him. If he had fired any earlier, the receiver would have been tackled short of the first down. Fortunately, Dak's added patience allows for the play to expand the first down marker.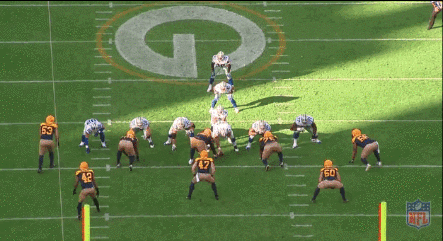 The Cowboys offensive line rarely gives up pressure, but when it does, Prescott has still played well. His ability to subtly move up the pocket was advanced for rookie standards, as he was able to consistently deliver without flinching. On the play above, the protection collapses, yet Prescott is able to keep his eyes downfield, side stepping defenders while being able to deliver a strike to Terrance Williams. This is the most impressive play #4 has made so far; It's a big boy play that great veteran QBs like Aaron Rodgers and Tom Brady make on a daily basis.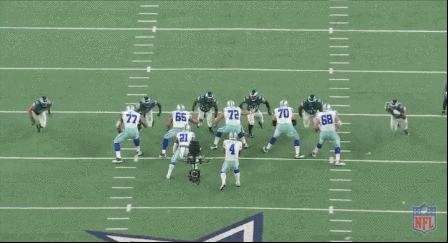 On this play, Prescott operates from a condensed pocket. He notices Dez working his way left, but sees the defensive back (#53) reading him all the way. With subtle movements, he's able to draw #53 away from Dez and over to him, putting him under pressure but allowing Dez to get open, resulting in a completed pass and a successful pressure play.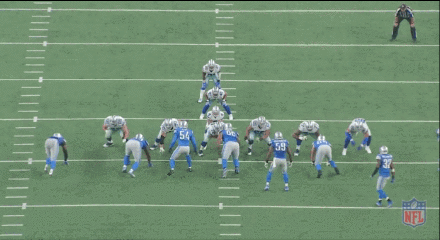 On the play above, Prescott shows great timing in releasing the ball. While he's a QB that thrives on plays that require him to hold the ball, he's also aware when to release the ball, whether it's quick or late. As soon as Prescott sees the open receiver, he immediately plants his feet and drops a perfect pass into the breadbasket for a huge play. His smooth mechanics allow him to operate comfortably for the most part.
When it comes to flaws, there aren't nearly as much as other rookies, but there are some things Prescott can polish up on.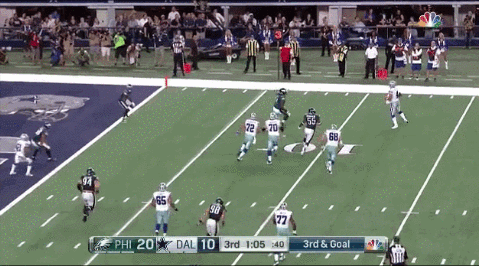 In general, while Prescott's play under pressure is certainly good, it could be better. Sometimes his decision making is errant, and as the season progressed we saw a bit more of that appear. Against the Eagles defense was one of the better examples. On this play, Prescott is forced out of the pocket. On 3rd and goal with no one open, your best bet would be just to throw it away and take whatever points you can get, but Prescott got a little too trigger happy here. He was fortunate Terrance Williams committed blatant offensive pass interference, because this should've been picked.
On this play, Prescott tries too hard to get rid of the ball in crunch time. With 23 seconds left, you need to be pushing the ball a bit more downfield at this point. He dumps a short pass to Witten instead. This would be problematic enough, but the coverage completely bails the QB's decision. The Steelers' defense is not well coached or disciplined, as the cornerback is supposed to be playing closer to Witten. With better coverage, this would be an easy pick six, and the game would be over.
Still, these are relatively minor complaints, and Prescott's overall play was great as a rookie, and good for an overall QB. He does so much right that his flaws are easy to forgive.
Carr vs. Prescott
We've profiled both QBs, but now it's time to do a comparison, highlighting which traits each QB is superior to the other on.
-Pre Snap Ability: There is no contest. Dak Prescott is head and shoulders above Carr in this area.
Winner: Dak Prescott
-Arm Strength: Prescott's arm strength is good, but Derek Carr's is sensational. The way he can just flick the ball 50+ yards downfield with just a quick release with great control is seen in very few quarterbacks.
Winner: Derek Carr
-Accuracy: This is an area where both QBs have had their struggles, but Prescott's is clearly better. Carr has struggled with short accuracy throughout his career, while Prescott is much more decisive and consistent, especially under pressure.
Winner: Dak Prescott
-Decision Making: The bread and butter of a quarterback. Derek Carr's decision making has greatly improved since he was a rookie, and he's been able to avoid the same stretches of old. With that said, it can't compare to Prescott's. Dak's patience and superior field vision put him well above Carr in this category, and his decision making is much more thought out under pressure.
Winner: Dak Prescott
-Downfield Passing: Prescott was generally good at throwing downfield, but Derek Carr was fantastic in 2016, with more precise placement.
Winner: Derek Carr
-Pocket Movement: Carr has come a long way with his movement in the pocket, but Prescott has a greater display of subtle movement in the pocket, and is more willing to hold onto the ball to allow a play to develop.
Winner: Dak Prescott
Outside the Pocket: This is pretty close, but this is an area where Derek Carr gets the slight edge in, since he's been able to operate outside the pocket with very little trouble.
Winner: Derek Carr
-Mechanics: Even as a rookie, I found Prescott's mechanics to be well above Carr's, as his footwork doesn't downgrade as much under pressure.
Winner: Dak Prescott
Conclusion
While both quarterbacks are good and two bright stars in today's game, I would take Dak Prescott over Derek Carr. Prescott is simply the better quarterback in the pocket, with his decision making, accuracy, play under pressure, pre snap ability, and overall consistency. His play in general has been underselled because of the situation he's in. He's been responsible for much of his team's success because of how he operates the offense.
While Derek Carr operates his offense well, I don't think he's quite as good as everyone seems to think. As much as he is a reason his team wins, he's also a reason his team is in close games so much due to his eagerness to get rid of the ball in clean pockets to covered receivers when he should hold onto the ball, as well as his footwork under pressure.
So I think Prescott is the better quarterback, but both are good players that should continue to develop behind great offensive lines and overall quarterback friendly environments. For a young quarterback, that's the best thing to have, and it's pleasing to see that two active young quarterbacks are behind those situations.