For the longest time, Matt Ryan was one of the most if not the most, underrated quarterbacks in the NFL. Unfairly picked on for a small playoff resume that only included one win, he was a top 10 quarterback that was passed over because of what he "didn't do" in January.
That all changed in 2016 when Ryan ascended as the Most Valuable Player of the year and helped take the Atlanta Falcons to their 2nd Super Bowl in franchise history.
It was a season to remember. Setting franchise records for passing yards (4,944), yards per game (309.0), touchdowns (38), passer rating (117.1), and completion percentage (69.9%), Ryan's season was a tremendous accomplish both personally and for the city of Atlanta.
It was also a season where he finally silenced critics of his postseason accomplishments. Putting up 1,014 yards for 9 touchdowns and 0 interceptions, as well as a 144.0 passer rating in a losing effort in the Super Bowl, Ryan managed to take off some of the weight he had for most of his career.
In fact, Ryan's last 5 postseason starts look great.
These statistical accomplishments are something Matt Ryan should be proud of achieving. Being an NFL quarterback is already difficult enough to get to. Staying in the league and being a good quarterback for a long time is near impossible. Ryan has been able to accomplish this tenfold. So there's been plenty of reasons for Falcons fans to keep their heads high despite a heartbreaking meltdown in the Super Bowl.
But should there also be concerns for the franchise quarterback now that former Falcons offensive coordinator Kyle Shanahan is now in San Francisco as the head coach?
When ranking him in my annual Starting Quarterback Power Rankings list, people were surprised to see Ryan at 15 out of 32 starting quarterbacks heading into 2017 (recently updated to 12th). The league MVP outside the top 5 and top 10, just barely in the top 15? And with the aforementioned list of accomplishments, isn't putting him that low far-fetched?
Perhaps it is, but I want to address a couple of things I could not with Twitter's character limits.
First, Ryan's position on the list was not from a personal bias or a random conclusion. My reasoning was done by watching all 32 projected starting quarterbacks (It has yet to be determined if DeShaun Watson will overtake Tom Savage for the Texans' starting role, but I had him on the list anyway), comparing their strengths and if they had any weaknesses, and then evaluating them based on what I saw and the rankings I was most comfortable with.
Second, the list and Ryan's ranking was not done for the purpose of click baiting people. This was done to give people an alternative opinion on the quarterbacking, something they could use as a reference point for their own research instead of using someone's work as the gospel.
Third, and most importantly, to me, there are issues Ryan has had that I feel need to be addressed heading into the 2017 season. That's where this article comes in.
In 2016, Matt Ryan was given the best supporting cast of his career. With the addition of center Alex Mack from the Browns, wideouts such as Taylor Gabriel and Mohamad Sanu in addition to the presence of Julio Jones, and the dynamic run duo of Devonta Freeman and Tevin Coleman, Ryan was given a cast that didn't suffocate him like in previous years.
But it went further than that. Ryan's MVP winning season was aided with the help of former coordinator Kyle Shanahan.
The Kyle Shanahan Factor
Shanahan used the assets Ryan had to create one of the league's most quarterback friendly environments, one where easy reads where available consistently and at the right time. While in previous years, #3 had better receivers around him, in 2016 that didn't matter.
As well as helping sign Browns center Alex Mack, Shanahan helped recruit receivers Taylor Gabriel and Aldrick Robinson (the latter of which is in San Francisco with Shanahan), two players who played under the OC in previous seasons. No one would mistake these guys for world class athletes, at least by NFL standards, but under Shanahan's scheme. Both receivers struggle to gain separation downfield, but their speed and YAC ability can help them to be schemed open easily to fit their skill sets.
Under the Shanahan offense, both players thrived, as well as players such as Devonta Freeman and Tevin Coleman. With all these tools, Ryan was given his most comfortable cast to work with ever, and at times it seemed like an absolute cakewalk.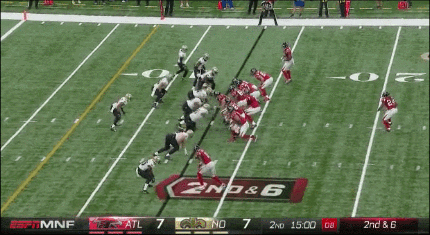 In his offense, Shanahan likes to spread out routes, using misdirection, RB routes, TE throwbacks, and a wide variety of play calls to scheme receivers open and make big plays easy to create. This means that the quarterback has plenty of options to throw to and plenty of time to get the ball out of his hands, even if the offensive line isn't up to par.
While Atlanta's offensive line wasn't spectacular in 2016, it didn't need to be due to the creativity Shanahan's offense presented. This allowed Ryan to be protected consistently even if he wasn't by technical terms.
In the GIF above, the 3 WR set on the right side of the field purposely does not separate, creating misdirection on the routes and a distraction that leaves the left side of the field completely uncovered. Ryan understands this and immediately dumps the pass off to Devonta Freeman, one of the best backs in the game. Due to the abundance of space, Freeman's path to the end zone is an easy one.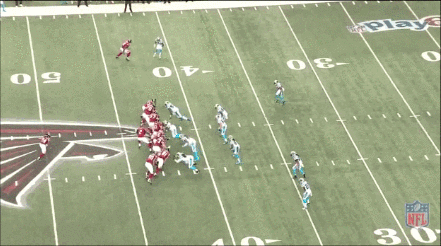 A theme you will notice with these GIFs is that uncovered receivers defined a chunk of Ryan's 9.3 YPA. Of course, he still had to put the work in and the stat is still impressive even with context, but these types of plays where the receiver is schemed completely open doesn't make it quite as impressive as it sounds.
The play above is a staple of the Shanahan offense; the tight end throwback. Involving play action, the throwback has the QB rolling right (or left) outside the pocket, throwing to the opposite side of the field to hit a (presumably) uncovered tight end.
The 2 WR set on the left side crosses outside, while the defense takes the fake handoff bait. Austin Hooper, who catches the pass, creates a diversion by pretending to block. With the chaotic routes, the closest defender to Hooper is tricked by Ryan rolling to the right. This allows Hooper to be completely uncovered, so much so that as long as the pass was in the general area he was, it was a touchdown. Taking candy from a baby isn't this easy.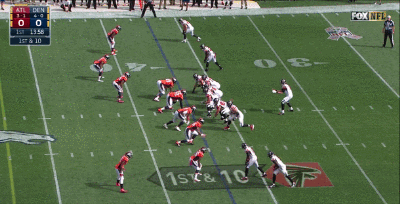 Above is one of the best play calls I have ever witnessed. At first, it appears to be a five receiver set, but there's more to it. 2 receivers run up the middle right of the field, or so it would seem. As it turns out, Coleman (lined up as a receiver on the play), cuts to the middle of the field, and with the other receiver cutting in front of Coleman to block, this creates confusion amongst the two defenders in front of them, allowing Coleman to be completely wide open. The resulting play leads to a 48-yard gain.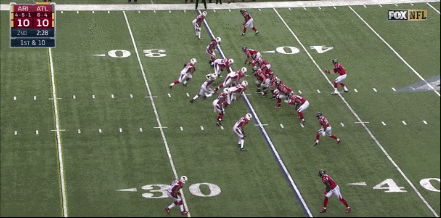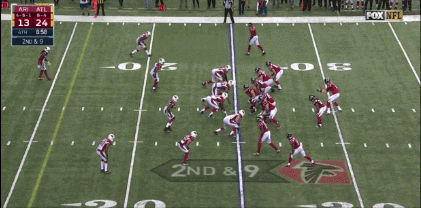 Lastly, these two plays, from the same game, had the same result; a bubble screen to Gabriel for the touchdown. These resulted in touchdown passes of 35 and 25 yards, 60 of Ryan's 269 yards on the day. When taking out those two plays and leaving in 32 attempts instead of 34, the 7.91 YPA goes down to 6.53 YPA.
Ryan still had to do his own work, and his improved play in 2016 over 2015 definitely helped. But Shanahan's scheme helped create a large part of Ryan's statistics. The 9.3 yards per attempt are impressive, but the Falcons offense in 2016 gave Ryan plenty of easy yards with targets being schemed open downfield. This, in addition with the YAC ability of Freeman and Coleman, helped make Ryan's YPA look all the more impressive.
Next to the Patriots, the Falcons had arguably the most quarterback friendly environment in the NFL.
Now, if this was all that happened in 2016, I wouldn't have any concerns to address post Shanahan. But despite the QB friendly environment, Ryan's skill set was unhinged in comparison to previous years.
Before I get into that though, I want to dwell into what Ryan improved on in 2016 that made it all the more better than 2015, and ultimately, made him an MVP candidate.
Matt Ryan's 2015 season was a mixed bag. While he was still making quality throws, he was also turning the ball over at the wrong time, often being careless with the ball and looking uncomfortable in the new Shanahan led offense. This proved costly as the Falcons slumped to 8-8 after a 5-0 start.
In 2016, Ryan stepped up and delivered the quality season you would expect from a QB of his caliber. As the season progressed, we started to see the Matt Ryan of old, not holding back the Falcons the same way as in 2015.
Matt Ryan's Strengths Matt Ryan's arm strength has never been great, and this is common knowledge. The Falcons knew this when they drafted him, instead going after him because of how well he could anticipate route openings and play under pressure.
In the GIF above, Ryan's pass floats for what seems like an eternity, but he makes up for it by getting rid of the ball early as Julio Jones is at the top of his route with his back turned. Ryan places the ball in a spot where only Jones can catch it, resulting in a completed pass. Ryan is a smart quarterback that understands how to adjust his skill set when the play requires a long ball. In the play above, Ryan, off play action, anticipates a spot where Jones can catch the ball without interference. The placement on this pass is one of the best you'll ever see. The ball could not be thrown any better, and it results in a massive gain. Ryan's pocket movement also stands out. His mobility is above average, but has never been on the same level as Aaron Rodgers or Russell Wilson. However, his pocket movement has been terrific. He is consistent in providing subtle movement and can easily sense pressure. This has helped make him the deciding factor to the success of the Falcons, even if the team wasn't always winning.
Ryan shows great pocket movement in the sensational play above. He not only notices Julio crossing to the outside left, but also notices the edge rusher to his right closing in on him. Keeping his eyes downfield, Ryan steps up in the pocket and quickly gets rid of the ball with an incredible pass to Julio. Similarly, Ryan keeps his eyes downfield when he's forced to climb out of the pocket on this play. His pass threads the needle here for the touchdown, helping secure a monster win against the Buccaneers on Thursday Night Football.
Ryan had the offensive scheme of his dreams in 2015. It's just that he didn't play up to standards and improved his decision making a good deal in 2016. By running Shanahan's offense at a higher and more efficient level, the offense became the #1 unit in the league.
Concerns for the Future
Despite all the good Ryan did last year, there may be some concerns heading into the 2017 season. While Ryan's mistakes weren't as abundant as the previous season, he still made a shocking amount in a QB friendly environment. Even though he only threw 7 interceptions in the regular season, he very easily could've thrown a lot more.
Cian Fahey of Pre Snap Reads calculated that Ryan threw 23 passes that could have been intercepted, 17th most in his QB Catalogue book. The percentage of his passes that were interceptable was 3.64%, 11th most in the league. In the passage for Ryan, Fahey concluded that he felt Ryan played good, not great, in 2016, and that the INTable stats weren't quite as impressive because of the execution of the offense around him.
After looking through it myself, I found similar results. Like I said, Ryan's mistakes were fewer and farer in between, but there were still instances where a pass caught by the defense could've made the QB pay for his error. In this situation, during a 17-10 game on his own 15-yard line, Ryan experienced one of the luckier moments of his career. Assuming Julio was open and getting confused by the coverage, Ryan forced a bad decision and should have been picked off. Improbably, the pass was tipped and caught by Julio, and the momentum swing was thrown aside by the football gods. Ryan threw an impressive go ahead touchdown during the game winning drive against the Packers in the regular season matchup, but it came close to ending in disaster for Atlanta. In the play above, Ryan did not see LaDarius Gunter (#36) watching Mohamad Sanu, assuming he would help double team Julio instead. Gunter watches Ryan the entire way and makes a move. He disrupts the play but drops the potential game sealing interception, giving new life to Atlanta and making Green Bay pay for failing to capitalize.
Not only did this impact the game, but it even helped impact the NFC playoff seeding. With otherwise same results, the Falcons would've finished at 10-6, with the 2nd seed and a first round bye potentially going to the Seahawks, who finished 10-5-1 and beat Atlanta in the regular season. Perhaps I'm nit picking, but when a play like this does not get punished, it needs to be recognized if the QB is doing this more than a few times. In this situation, the Falcons scored on a TD drive with the help of a little luck. Arizona's defense prevents Ryan from getting rid of the ball quickly, but he forces it anyway to what he thinks is an open Julio. But instead of being punished, the interception is dropped, and the Falcons move forward and score plays later. The Chiefs game ended in heartbreak, but it could've been a lot worse. After throwing a pick six, Ryan and the Falcons got the ball back attempting to put up empty yards before the half expired.
Here, Ryan almost threw another pick six. The throwing motion looks very odd on this particular play, as there's a slight hitch that prevents the ball from arriving safe and on time. But even then, Daniel Sorensen (#49) was reading the route all the way. Fortunately for Ryan, the pick six is dropped.
The point is that if Ryan was still making these mistakes (albeit less than in 2015) under the 2nd most QB friendly environment, how much would this come up with new coordinator Steve Sarkisian? There comes the concern. Sarkisian can potentially be a good coordinator in the NFL coming from college, but I'm not sure he can be nearly as good as Shanahan. If he adapts the offense and doesn't stay true to the system the team ran last year, we could see the mistakes pop up more and more.
I probably wouldn't be so concerned if I was secure about Ryan's arm strength. He's been able to make up for a lack of a great arm with quick instincts and anticipation, but there were signs in 2016 that it was on the decline. Despite the win against the Raiders, there were several scenarios where Ryan's arm had the power of a toy cannon. Arm strength isn't a major deal breaker, but a declining arm can impact the velocity of a quarterback's passes and how far it travels.
In the first play above, Ryan's pass doesn't even come close to hitting his target's breadbasket. The pass just hits the turf (or baseball field, whatever works). In the 2nd play, the Falcons run another TE throwback similar to the one against the Panthers. But while the Panthers one resulted in a touchdown due to how open Hooper was, in this play, the defender is closer. Ryan's lack of juice on the pass results in Hooper slowing down his stride in order to make the catch, preventing a touchdown. Ryan's downfield accuracy was good in 2016, but not great, and plays like the one above were the reason for that. Here, #3 air mails it out to Jones. The receiver is so wide open that it should've a walk to the end zone after he caught it. Instead, Ryan's pass sails wide, forcing Julio to adjust to even make the catch. The Falcons would later settle for a field goal on this drive.
This throw isn't easy to make, but it isn't impossible like Ryan makes it. A QB with the arm strength, control, and velocity of Aaron Rodgers, Cam Newton, Ben Roethlisberger, or Russell Wilson would be able to make this throw in stride. Here, Ryan's pass look like it just sailed. On Atlanta's final possession against Seattle, defensive pass interference should have been but wasn't called on the Seahawks when Julio Jones was held by Richard Sherman, but it wouldn't have been a problem had Julio been provided a better pass. On the All-22 angle, it is clearly shown that Julio has beaten coverage and would be able to score the game winning touchdown with a precise pass.
Instead, Ryan's arm prevents the pass from getting to where it should be. Ryan can mask the arm strength downfield by anticipating a route opening, but here, Julio was open as Ryan got rid of the ball. The pass sails a bit wide and is underthrown. Finally, on this play, Ryan's pass is again nearly picked. The hitch in his motion helps, but the throw lacks the juice one would expect on a strike down the middle. The arm strength was an issue that happened on more than just the plays I showed, but I wanted to present a glimpse of what I was seeing.
Conclusion
Matt Ryan is a quality quarterback and always has been. After 2016, no one will really dispute that. He's a quarterback that has long deserved the reputation he's getting now, and his reaction to pressure, pocket movement, accuracy, and ability to read out defensive coverages has always stood out.
Kyle Shanahan leaving Atlanta for San Francisco wouldn't be so big of a problem for me if Ryan didn't commit as much turnover worthy throws in an extremely friendly quarterback environment.
Shanahan was the best thing to happen to Ryan. His style of offensive and scheming allowed for a massive variety of open receivers and opportunities for Ryan to stack up yards and touchdowns. Despite not having the best individual supporting cast in and of the players, the coaching and scheming of the players allowed for Ryan's most comfortable offense. Even with this, the cases where Ryan's arm strength and mistake worthy plays showed up were enough to concern me.
With Sarkisan coming in, who knows what will happen. I still think Ryan will be a good quarterback in 2017, but I don't think he'll be as good as people thought he was in 2016. If Sarkisan continues to run the offense the same way Shanahan did, Ryan will easily be a top 10/top 5 QB again. But if the arm continues to get worse, we could see #3 on the outside looking in again when it comes to QB debates.
All things considered, Matt Ryan is the best quarterback the Falcons have ever had by a longshot, and even if his arm continues to decline, his career up to this point has been really damn good. Even if I don't think his 2016 season was as good as public perception, I'm happy to see him get the recognition he has long deserved.
And in 2017, time will tell if Ryan can continue to be the MVP he was in 2016 with the departure of Kyle Shanahan.