Russell Wilson is one of the best quarterbacks of our generation. Building his game as a dynamic running quarterback and master of vertical passing, Wilson's very presence alone has allowed the Seahawks to make the playoffs in each season he has played.
Wilson has long had a narrative of being a game manager playing with a great run game and the Legion of Boom. What these people miss is Wilson is the glue that brings everything in the run game together. With the run blocking being one of the worst in the league, Russ is able to elevate the run game even without quality protection thanks to his mobility and run threat.
As a passer, Wilson thrives doing the impossible.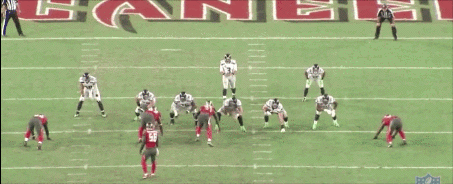 One of Wilson's best traits is being able to throw to angles that generally should require him to throw across his body, but he does it without altering his mechanics. This looks "awkward" but for Wilson it plays out perfectly.
An example of this is shown in the play above, where Wilson runs out of the pocket. The pass he throws would force most quarterbacks to stop, alter their bodies, and try to complete the pass. With Wilson, he has the arm strength and running ability to complete these types of passes without altering his body. This comes from his background as a baseball player, and you can see him playing the part of a second baseman.
It's a stage Wilson is comfortable in. He's arguably the best quarterback on the run, and probably the most comfortable at doing it. What truly stands out about Wilson as a passer though is his arm control. Sure, he can rocket the ball with intense velocity, but he also offers the rare trait of controlling the exact acceleration and trajectory his passes go at. This allows him to lead receivers in stride with perfect timing and execution.
On this play, the quarterback is again forced out of the pocket. He notices an open target and is able to comfortably get rid of the football. The speed at which Wilson lofts the ball is spot on. Anything faster or slower, and the pass would be too far out or too far behind. His quick release allows his throws to stay out of harms way, for the most part. This throw also shows how excellent Wilson's arm trajectory is. He's one of the league's most accurate deep passers for this reason, and here, he does a great job of anticipating a spot for Doug Baldwin to be in. He's able to float the pass at just the right time and speed, making the connection a perfect one.
These were some of the bright spots in a down season for Wilson, though that doesn't speak of his quality. From the beginning of the season it was clear he was playing hurt, and since he played every game the Seahawks played, never got rest or time to stay cozy. And behind a bottom of the barrel unit in pass protection, he was extremely hesitant to stay in the pocket. At the end of the season, his overall accuracy diminished, but that should be a moot point this season, where Wilson will be healthy once again.
This should allow for the pass game to thrive. For years, people have wondered what Wilson would be capable of with excellent skill players. In past seasons he had Golden Tate and Sidney Rice, but only recently has he been able to create a focus on chemistry with Doug Baldwin. The tight end position wasn't bad, but he never really had a superstar playmaker at the position.
Enter 2017, that dream has become a reality. The Seahawks' aren't usually the first thing that comes to mind when it comes to receivers, yet the WR corps has not gotten the credit they deserve, as the team is deep at the WR position. Doug Baldwin, Jimmy Graham, Tyler Lockett, Paul Richardson, C.J. Prosise, Jermaine Kearse, and Tanner McEvoy make up a loaded receiving corps, and Prosise, Thomas Rawls, and Eddie Lacy make up the RB unit.
Despite the Seattle offensive line, Russell Wilson has the best supporting cast of his career to date. Below, we'll go through each of the key factors to the offense, offering what they do well and how well they do it.
Darrell Bevell
First up to bat is offensive coordinator Darrell Bevell. While the line sucks, Russ' situation thankfully has not been hopeless, as Bevell has been a great play caller and schemer. Bevell is underrated as far as coordinators go. He runs a very friendly scheme which understands how to diversify an offense that is exactly that and diminish the effects the offensive line has on the rest of the team. Bevell likes to use trickery and misdirection in his offense. His play calls succeed because the design of the plays are quick enough for openings to occur without the linemen destroying it. On this play, Wilson flicks the ball to Baldwin after an option fake to Rawls. The QB is able to sneak through the run blocking, and Baldwin returns the favor to Wilson by throwing the touchdown pass to Wilson just in time. It's a beautifully designed play. To his advantage, Bevell also dials up unique WR sets. Above, he calls for a 5 WR set, with 4 being positioned on the left. The motion (not shown in the GIF) creates for misdirection, allowing Prosise to cut outside and be open easily. This allows for a huge gain on 3rd and 6.
Bevell's perception is still haunted by the infamous pass play call in Super Bowl XLIX, but the Seahawks have been fortunate to have him as the offensive coordinator for the past six years. He offers the creativity needed for a team that's filled with playmakers, and understands the unique, individual skills each player has.
Doug Baldwin
Every hardcore football fan's favorite secret at wide receiver, Doug Baldwin is one of the more complete pass catchers in the league. His 94 receptions in 2016 tied the franchise record (Bobby Engram, 2007), and his 1,128 receiving yards were the highest from any Seahawks receiver since Engram's 1,147 (also in 2007).
As a receiver, Baldwin offers it all. Speed, separation downfield, toughness, elusiveness, and threat as a YAC and vertical weapon. He's the best slot receiver in the league, and for an offense that's only just begun to transition to a pass oriented one, he's managed to put up big numbers.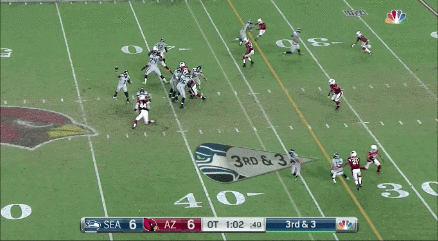 Baldwin has perfect balance as a receiver. As shown in this play, he's able to create extra yardage by staying in bounds on the sidelines, and is able to elude or jump away from tacklers (again shown above) for more yardage. This makes him dangerous cutting the outside edge. Baldwin also offers a wide variety of ways to create separation downfield. He's regarded as one of the more patient and creative route runners, and offers such above. Here, he acts as if he were a blocker for a split second, then separates instantaneously with his opponent confused. With the big amount of separation, he's able to make an easy touchdown catch. #89's value as a slot receiver is shown in his spatial ability. Baldwin understands the role being a slot receiver inquires, and senses tacklers coming the entire way. On this play he fakes one way and cuts to the outside edge, leaving defenders in the dust and creating more yards after the catch.
Baldwin is a guy that has always been great, as well as a constant favorite with Football Outsiders. With Wilson being less hesitant and paying more attention to receivers like #89, his stats have skyrocketed.
Jimmy Graham
Setting Seahawks' single season franchise records last year for receiving yards (923) and receptions (65) from a tight end, Jimmy Graham has arguably been the team's first superstar tight end. He came back from injury from the previous season and thrived as one of Wilson's favorite targets, constantly racking up yards on intermediate and vertical plays.
Graham has always been one of the league's top tight ends, and even at age 30 his athleticism is extremely good. As seen on the 2 plays above, Graham has fantastic ball skills for a tight end. He excels at minimizing the need for Wilson to be precise with his throws (though he is anyway), and is a natural pass catcher with expert ball security. His frame makes him a gigantic target for Wilson, and Seattle has been wise to position him on more downfield routes, as he's able to consistently win those. Graham is also versatile, as shown in his ability in the short passing game. Here, Graham does the Ezekiel Elliot-esque hurdle (shown in slow motion). Not something you'd expect from a 6'7 tight end that weighs 265 lb, but it is welcomed anyway.
All in all, Graham is a spectacular, top 5 tight end. For some reason he's been under the radar despite having a great reputation in New Orleans. I suppose being with a team thought of as a run first offense does that.
Tyler Lockett
Tyler Lockett's tibia/fibula injury in his sophomore season was devastating for the Seahawks' offense, but at 24 years of age he should be able to bounce back.
Lockett is the return specialist for the Seahawks, and as he's progressed throughout his young career he's been used primarily as a vertical receiver. And in this field, he's one of the strongest. Lockett's speed is what makes him so good on downfield routes. He's a favorable vertical target for Wilson, and when the two have connected, they've connected really well. It's an obvious statement but it shows how good Lockett is. Here, Wilson launches a rocket to #16. He's able to make a difficult, over-the-shoulder catch for a massive gain. He reminds me of Antonio Brown and DeSean Jackson in this area of the field. Lockett is also nimble and elusive at the line of scrimmage, and this allows for him to create separation with relative ease. He uses lighting quickness on this route, allowing him to be open immediately. Wilson drops the ball in the breadbasket and Lockett is able to hang on for another big gain. Lockett's athleticism allows him to be an option on end around plays as well (he had a 75-yard touchdown run against the Panthers last season). Here, the line formation messes up, but Lockett is able to break one tackle and elude himself away from another, making nothing something and getting the first down.
Even if Lockett returns rusty, the next receiver would be able to step in his place without missing a beat.
Paul Richardson
When Lockett's injury forced him to miss the playoffs, Paul Richardson climbed up the depth chart. He garnered significant attention after a spectacular one-handed touchdown catch against the Lions, and racked up decent stats in Lockett's place.
Ironically, Richardson himself has dealt with injuries throughout his career. His rookie season ended with a torn ACL in a playoff game against Carolina, and his 2015 campaign was cut short due to a hamstring injury. Finally escaping the injury bug in 2016, Richardson's talents were able to thrive before a primetime audience, shocking many who not expecting this from the 25-year-old second round pick.
Without sugar-coating anything, Richardson's rise in the playoffs was not a fluke. He is a very talented receiver who has been efficient with the reps he has been given, and can succeed from any level on the field.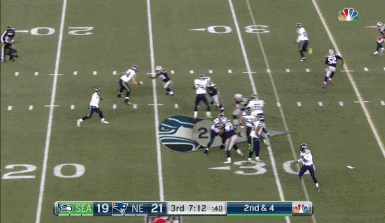 One trait that stands out with Richardson is his ability to get on the ground and run quickly, or as I like to call it, "YAC Mode." This allows him to be one step ahead of the defense, further moving the chains down the field. Above, he does this is and uses great awareness to shift outside and pick up more yards after the catch.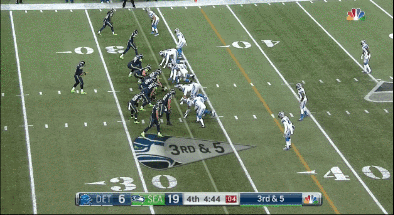 As highlighted with that TD catch against Detroit, Richardson has a wide catch radius. He's held on this play, but manages to make another outstanding one-handed catch. His playmaking in the postseason was compared to Chris Matthews' ascension in Super Bowl XLIX (where he had 4 catches for 109 yards and a touchdown), but there's a few things to keep in mind. Matthews was a sluggish route runner that was limited to downfield receiving, which is why he never got off the ground after the Super Bowl game. Richardson is a faster player, and has shown the ability to succeed outside vertical routes, something Matthews never did.
Richardson is also aggressive with his pass catching, as he constantly attacks the ball instead of waiting for it to arrive (as shown above). This is what good receiver should do, and it allows him to secure the ball quicker without being in danger of having the ball slip from his hands. Add this with additional polish at route running, and Richardson at full health is another dangerous receiver for the Seahawks.
We've shown what the receivers can do, but now it's time to check out the run game. Although Marshawn Lynch is with the Raiders, the Seahawks have two really good running backs that are both perfect fits for the kind of offense the team runs.
Thomas Rawls
The leader in yards per attempt in his rookie season, his 3.2 YPA would suggest that Thomas Rawls had an awful sophomore year. The truth is that Rawls' rookie season YPA was benefited by several huge holes that overinflated his league leading YPA the year before. Running behind that line with a fractured fibula also affected how his YPA would do.
Having said this, I found him to still be the high quality back he was in his rookie season. Seattle loves playing quick running backs that play with head on aggression and create space early on. It should be no surprise that Rawls does that and then some. On this play, he's met with immediate pressure from nose tackle Kenny Clark. The vision on this play is superb; Rawls executes a quick (and I mean quick) side step jump cut then cuts left, making an impossible play a 7-yard-gain. Like Lynch, Rawls is great at getting yards after contact; He had 72 yards after contact in the Lions' playoff game alone according to ESPN Stats and Info. This comes not just from Rawls' aggressive playing style, but his ability to work tight gaps. On this play, Rawls keep chugging through defenders, maintaining his quickness while slipping by tackles and maintaining his balance long enough to move the chains and pick up the first down. Here, Rawls again creates yards at the line of scrimmage, making a small cut outside before executing a spin move, allowing him to burst open in space. One thing you'll notice with Rawls is that he's extremely quick. He's an exciting player because he combines his speed with aggression and the ability to work small holes. While there are no small holes on this play, he creates the most out of failed run blocking, and turns a dead play into a huge gain.
C.J. Prosise
C.J. Prosise is a remarkable talent out of Notre Dame. He was limited in his rookie season, and it ended prematurely with a fractured scapula, but he managed to show more than enough to be trusted going into the sophomore year. In high school and early on in college, Prosise was a wide receiver (before making the switch to running back his junior year), and this is shown in the play calls the Seahawks assign him. On a few occasions, he was used as a deep threat, which is rare even for a receiving back. On the two plays above, he has the speed and concentration to make the plays work, and has proven he can be flexed to any position on the field and still be relied on.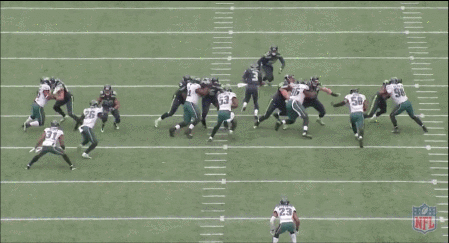 Like his ability in the pass game, he was limited as a running back, but showed terrific vision when he did play. He performs a terrific jabbing jump cut above, allowing him to break free for a 72-yard touchdown run. It's his ability at both running and receiving that have won me over, and with more reps he will be able to expand the options Seattle has not just at running and receiving back, but at the WR position as well.
Other Players
The starters at the skill positions for Seattle are impressive enough, but even some of the backups are interesting. While Jermaine Kearse is an inconsistent pass catcher, he is an aggressive, explosive wide receiver at his best, and as far as backups go he isn't half bad.
Tanner McEvoy, a former quarterback/safety that converted to wide receiver, was moved around quite a bit in his rookie season. He threw a 43-yard pass to Prosise against the Saints (featured in the first Prosise GIF) and also caught 2 touchdowns of his own. His frame (6'6, 230 lb) makes him an interesting prospect the Seahawks should consider keeping around.
Eddie Lacy signed a one-year, $5.5M contract in the offseason. His signing is confusing especially with the presence of Rawls and Prosise. While a big and aggressive back, he lacks the patience Rawls has and isn't as good with yards after contact. He can offer moments of explosive play, but is coming from one of the best lines in the league to one of the worst. At the least, he offers Seattle veteran depth.
3rd round receiver Amara Darboh out of Michigan isn't a bad prospect. In college he showed moments of impressive play, though with a team with incredible depth at the WR position, he may find it difficult to have a role with the offense in his rookie season. He was prominently used on shallow crossing routes in his senior season, and can be effective on those routes in Seattle.
Conclusion
Even with a horrible offensive line, Russell Wilson has the best supporting cast of his career. Is the defense the best it's ever been? Maybe not, but it's still a strong unit. The point is that the running back and wide receiver positions are loaded with extremely talented playmakers and depth, much more than people are willing to acknowledge.
It's possible that Wilson may not get a cast this good in his career for a while, especially with Paul Richardson and Jimmy Graham being unrestricted free agents in 2018. But for the time being, combined with the excellent coaching and scheme, the Seahawks offense is arguably the deadliest in the NFC, and with the defense returning healthy, can make a big impact and return to the Super Bowl for the first time since 2014.
This, of course, depends on if Wilson will be healthy this time around. When he is, he makes the offensive line look better than it actually is, and is one of the most accurate passers across all cylinders. When he's not, he can still impact the offense greatly, but lacks the consistency you would expect from a QB of his quality, turning down open receivers because of his hesitation.
Still, with a great QB and skill players with so much promise, it's hard not to be excited about what the 2017 Seahawks can do, and I look forward to seeing what they accomplish this season.
Featured image via wccbcharlotte.com.