Section A-L                                       Section M-R                                    Section S-Z
Eli Manning (New York Giants)
Accuracy Percentage On 16+ Throws: 44.6% (24th)
Accuracy Percentage on 20+ Throws: 45.3% (17th)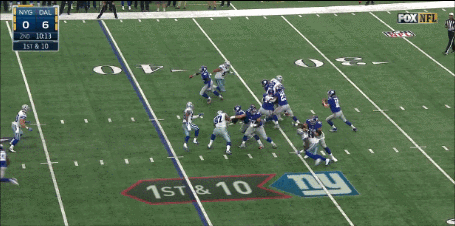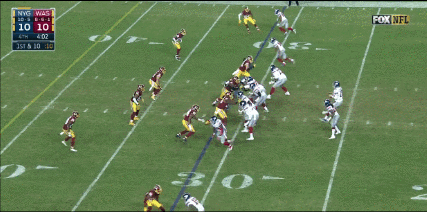 What happened here? Eli Manning's 2015-16 downfield season was full of quality throws, yet here it's a huge downgrade.
While not terrible, the accuracy is inconsistent to a fault. There are brilliant throws and some really dumb ones. The arm strength looks to be faltering, and after a brilliant 2-game start the overall quality just diminished.
I've always thought Manning has been a good quarterback unfairly saddled with the "mediocre" label. In 2016, however, he was mediocre, and at times downright bad. More or less, his downfield passing validated this, as I never knew what to expect next.
There are enough moments of what I consider "vintage Eli Manning", with dimes that need to be seen to be believed, so it stays afloat, but really offers the best and worst from the Giants veteran.
FINAL GRADE: C
Marcus Mariota (Tennessee Titans)
Accuracy Percentage On 16+ Throws: 43.6% (26th)
Accuracy Percentage on 20+ Throws: 42.9% (21st)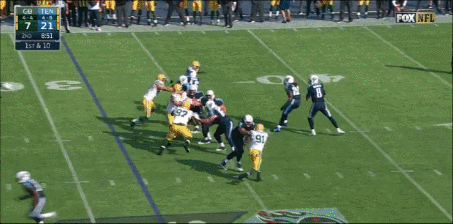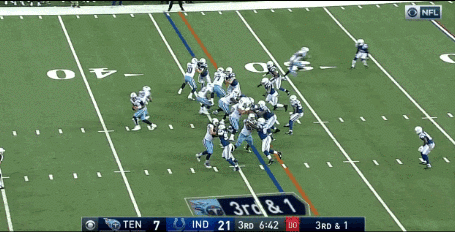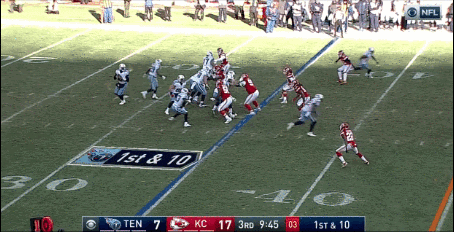 Marcus Mariota is already a great quarterback. His pocket movement, snappy fast throwing motion, ability to create throwing lanes and uncanny ability to use his eyes to manipulate the secondary have ascended him into a borderline top 10 quarterback.
However, one area where he shows weaknesses in is the deep ball. So why do the Titans pass downfield so much? That is an area where head coach Mike Mularkey is too overtly ambitious in. The route combinations and lack of separation do in a chunk of the incompletions, and there's not as much intermediate routes as I would like to have.
That said, there's some stuff to like from Mariota's deep passing. While it's around the same quality as his rookie downfield passing, there's more touchdowns and some real pristine throws in the mix. The receiving group experienced less miscommunication this time around, helping ease Mariota a bit.
Still, several inaccurate completions reached the surface, hurting Mariota's accuracy percentage. The arm strength is best suited for shorter throws, and these factor into why I believe there's too much downfield passing in Tennessee's offense. Not bad, but Mariota is definitely at his best in the intermediate range of passing.
FINAL GRADE: C
Cam Newton (Carolina Panthers)
Accuracy Percentage On 16+ Throws: 60.5% (8th)
Accuracy Percentage on 20+ Throws: 53.3% (8th)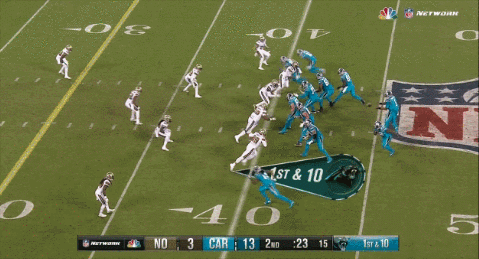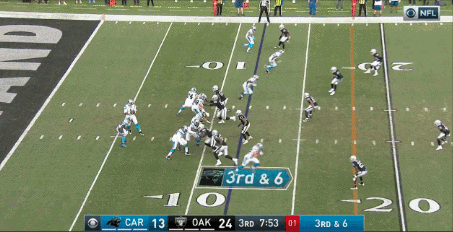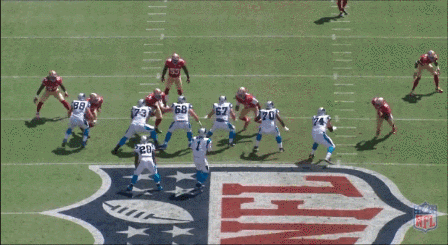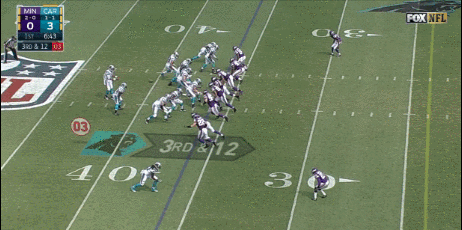 With the lowest completion percentage in the league, 19 touchdowns and 12 interceptions, Cam Newton experienced a large statistical regression from his MVP season a year prior. But was his 2016 really that bad, or was it a victim of box score scouting?
Well, let me put it this way; Not only was Newton great on downfield passing, I thought it was better than his 2015 season in that area. The Panthers offensive line allows heinous amounts of pressure like it's a job, and combined with the large amount of drops, miscues and lack of separation and it's a miracle Cam posted a 60.5 accuracy percentage.
There was definitely a dropoff in the last couple of games, but Newton was constantly making outstanding throws under pressure. Many of these completions I question if another QB could do them in the same style, and I'm not sure that'll ever happen. With otherworldly arm strength and ball control, Newton was able to fit tight passes to receivers that should not have been open.
All in all, I found Cam's deep ball to be high quality in 2016, far better than public perception gives him credit for and far more frequent in accuracy.
FINAL GRADE: A-
Brock Osweiler (Houston Texans, now Cleveland Browns???)
Accuracy Percentage On 16+ Throws: 27.6% (31st)
Accuracy Percentage on 20+ Throws: 25.8% (31st)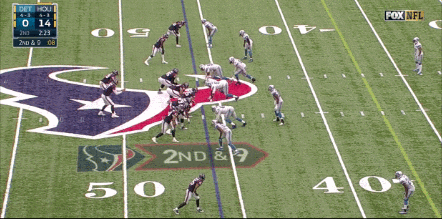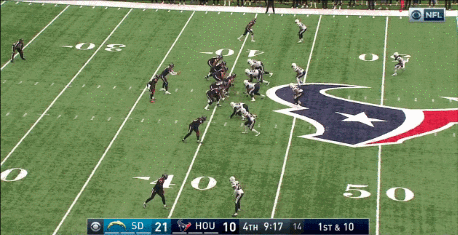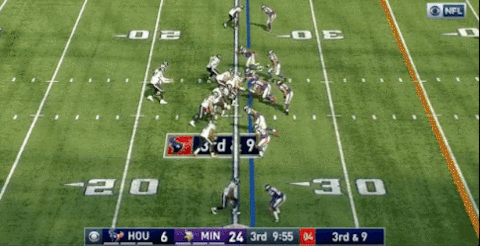 If you thought Blake Bortles was awful in 2016, Brock Osweiler won't change your mind, but he'll be just as miserable to sit through.
It's hard to imagine in retrospect any team spending $72M on a quarterback that played 8 games in four seasons prior, but then again, this was baffling back when it happened a year ago. 
Osweiler posted the worst accuracy percentage for passes of both 16+ air yards and 20+ air yards. When you're less accurate than a quarterback that can't throw the football with an actual motion, that's saying a lot. While he didn't miss his receivers as hilariously bad as Bortles, there were more inaccurate throws from Osweiler, which is freaking awesome.
This is a quarterback so bad he managed to make Deandre Hopkins irrelevant. This is a quarterback so bad the Cleveland Browns traded for him just so they could get the 2nd round pick that came with him. You have to wonder what the Texans were thinking when they signed Osweiler.
The best part about going through his deep ball is being able to experience the same amount of pain Texans fans had just watching Osweiler play. Osweiler did not qualify for the 2015-16 Deep Ball Project because he did not start a minimum of 8 games the DBP requires. After sitting through whatever the hell he was doing last year, I am eternally grateful I didn't chart him for 2015-16.
FINAL GRADE: F-
Carson Palmer (Arizona Cardinals)
Accuracy Percentage On 16+ Throws: 61.4% (6th)
Accuracy Percentage on 20+ Throws: 52.5% (9th)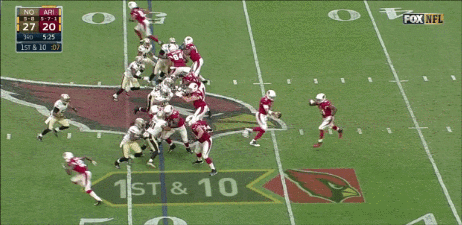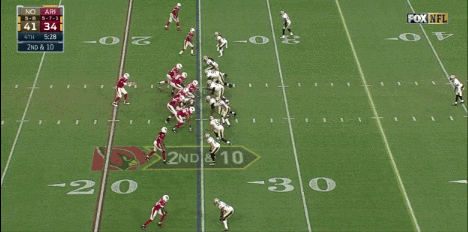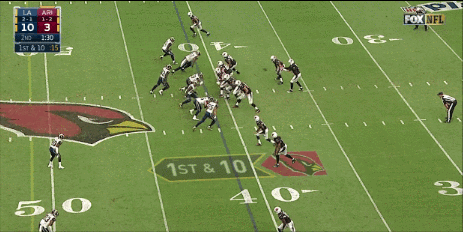 You might be thinking Carson Palmer is washed, but there's more to his 2016 than you'd expect. In 2015, Palmer was a certified MVP candidate, having a career year highlighted by unreal downfield accuracy and a Cardinals' franchise record 35 touchdown passes.
Palmer's first half of 2016 was full of misses that prevent it from competing with 2015, but the 2nd half offered the high quality he did the previous season. We're talking tight passes over defender's heads, spectacular placement and dimes you'd rarely expect most passers to make.
The offensive line and receivers, however, took a drastic step down in quality, often putting their quarterback in uncomfortable situations where he was asked to do more than the previous year. With constant pressure and drops, this is why the difference between Palmer's completion percentage and accuracy percentage is staggering.
It's not as good as 2015, but Palmer's 2016 deep ball was still great. The accuracy was in the ballpark, and outside of a slow start and some bad misses, this is exactly the kind of quality you'd expect from a QB like Palmer.
FINAL GRADE: B+
Dak Prescott (Dallas Cowboys)
Accuracy Percentage On 16+ Throws: 54.3% (11th)
Accuracy Percentage on 20+ Throws: 47.6% (11th)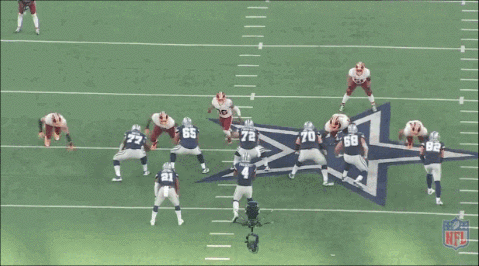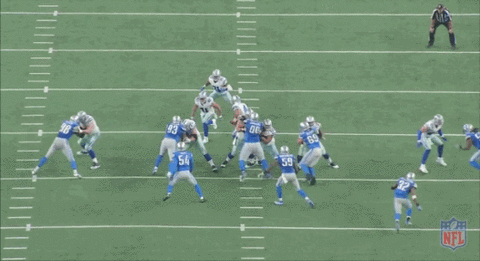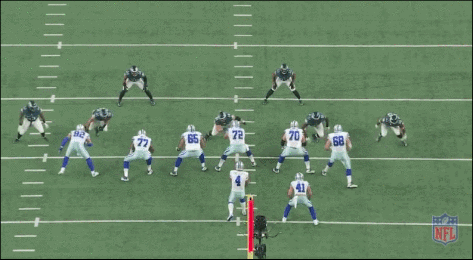 By now, everyone knows the Dak Prescott story. Drafted in the fourth round, he came in for an injured Tony Romo and never let go of the starting role, surprising everyone and winning Offensive Rookie of the Year in the process.
All things considered, Prescott was not bad at all. The downfield passing can't compare to Romo in his prime, but for a rookie it's a good start! There really isn't anything amazing or abysmal, but there's more good than bad in this situation.
The Week 16 matchup against Detroit showcased superb downfield accuracy, but otherwise this was pretty standard stuff. Nevertheless, Prescott showcased quality in his first season, and a fine stepping stone for the potential in years to come.
FINAL GRADE: B-
Philip Rivers (San Diego Chargers, now Los Angeles Chargers)
Accuracy Percentage On 16+ Throws: 50.6% (17th)
Accuracy Percentage on 20+ Throws: 46.3% (15th)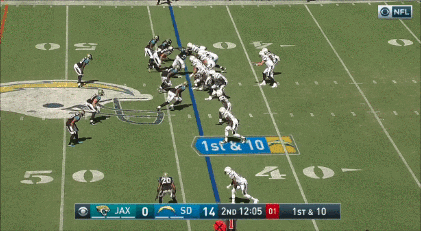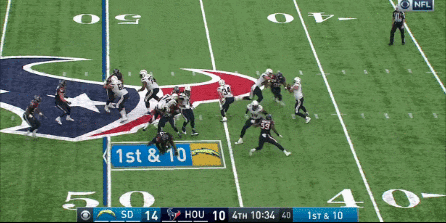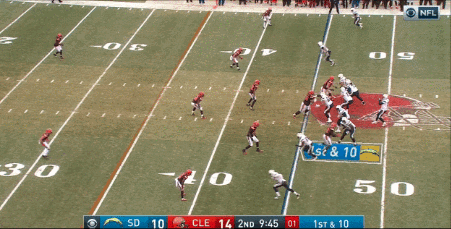 With the most downfield interceptions of any quarterback on the Deep Ball Project, Rivers had a season below lofty expectations, but one that when added up really isn't all that bad.
Like Eli Manning, Rivers' arm strength deteriorated at the end of the season, though to his credit he was more consistent this season than his peer. You can expect the usual needle threading pleasure Rivers has had us come to expect, while also featuring passes that died or didn't reach the intended target.
A probable Hall of Famer, Philip Rivers' last season in San Diego (the team is now in Los Angeles) was a bit of a mixed bag, but not terrible. Combining the interceptions and bad misses, Rivers can do much better, but there's enough quality that it doesn't sink below some of the competitors.
FINAL GRADE: C+
Aaron Rodgers (Green Bay Packers)
Accuracy Percentage On 16+ Throws: 61.3% (7th)
Accuracy Percentage on 20+ Throws: 55.4% (7th)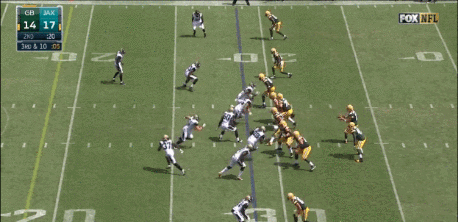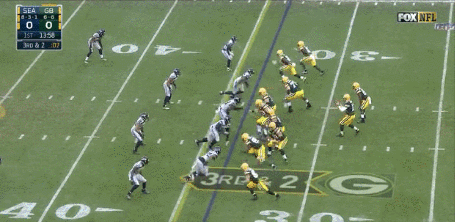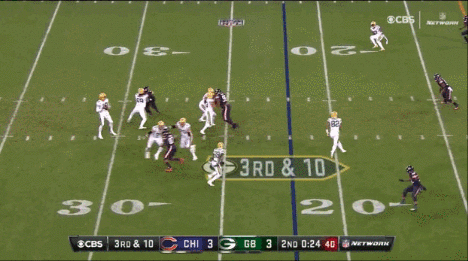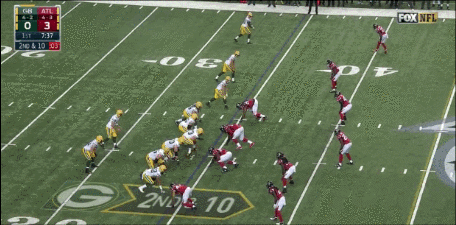 Nothing is more fun than watching Aaron Rodgers play football, and it's even more fun watching him sling the ball downfield. Therefore, it should come as no surprise that his downfield passing in 2016 was of the same awesome quality he's been able to provide.
In spite of a limited receiving group and lack of creativity in play calling, Rodgers' pocket patience and transcendental accuracy were able to carry the Packers into another NFC North title as they rode to the NFC Championship game after a 4-6 start.
In many respects, you can argue 2016 was Rodgers' most valuable season, and it's a season where I'd argue he should've won MVP. I was never sold on Matt Ryan as MVP because I felt he got lucky with turnovers in a few games, and I thought Rodgers' played consistently better than any other QB in the MVP race.
Both halves of 2016 were saddled with receivers failing to get open, but Rodgers was playing at his usual quality in the first half. It was the 2nd half of the season where he was really playing at a level unequalled by anyone. As such, the accuracy percentage skyrocketed despite the scheme and receiver quality barely changing.
Aaron Rodgers is the best QB in the league, offering an unheard of display of aggressive, accurate passing while being able to minimize the amount of mistakes being made. Nothing he does in his prime gets old, and you can guarantee the same for his deep ball.
FINAL GRADE: A
Ben Roethlisberger (Pittsburgh Steelers)
Accuracy Percentage On 16+ Throws: 51.8% (15th)
Accuracy Percentage on 20+ Throws: 46.3% (16th)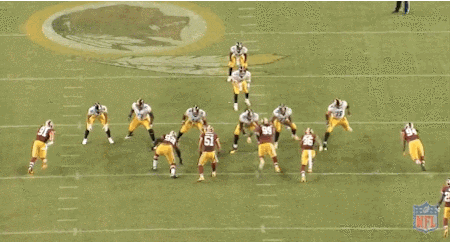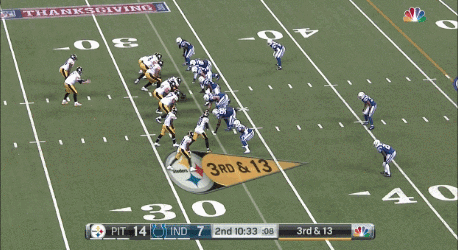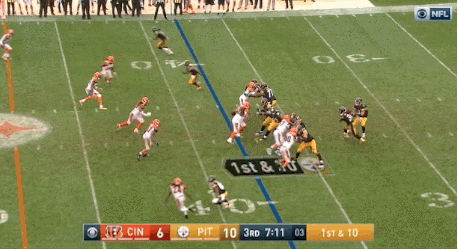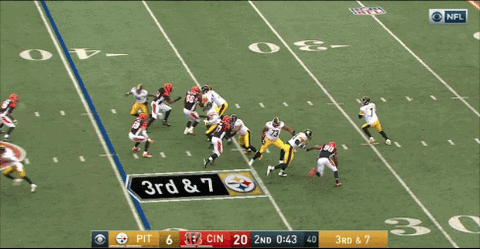 Generally, Roethlisberger is one of the best downfield passers in the game, but injuries halted an outstanding first half and made him pedestrian in comparison to previous years.
For one thing, the accuracy is much more erratic than previous years, and the difference between before and after the Miami regular season game where he got injured is big. The first five games were vintage Big Ben, offering the same exciting downfield display. After the Miami game, however, you saw the quality go down. He was also fortunate to get away with plenty of dropped picks as well.
Still, with 14 touchdowns, Ben offered plenty of scoring opportunities. Injuries hamper a disappointing year in comparison to 2014 and 2015, but deep down the quality was still there.
FINAL GRADE: B-
Matt Ryan (Atlanta Falcons)
Accuracy Percentage On 16+ Throws: 56.0% (10th)
Accuracy Percentage on 20+ Throws: 52.3% (10th)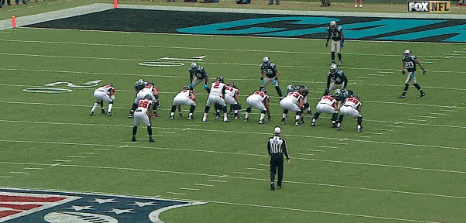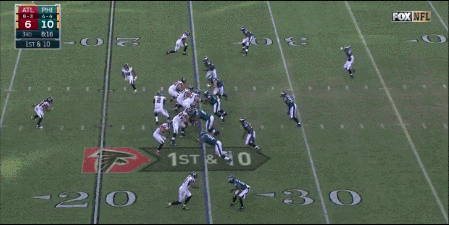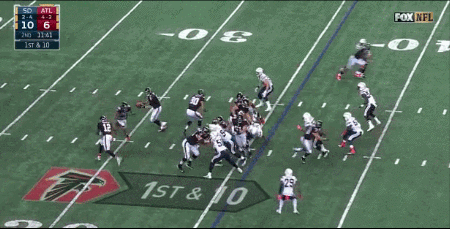 Matt Ryan won MVP in 2016 and led the Falcons to a Super Bowl appearance, but was the perception of his season taken a bit too far?
Ryan has always been a very good quarterback. Previous seasons' failures were unfairly squared at him despite performing with flawed supporting casts. In 2016, he got a really good supporting cast (coaching maximized it) and the result was what is considered one of the best passing seasons ever.
I wouldn't really go that far. While good, Ryan's production was maximized by Kyle Shanahan's system, where receivers were constantly open and bailing out inaccurate throws. Ryan was fortunate to escape from some terrible passes, and his record setting YPA owes Shanahan to an extent.
That said, Ryan's deep passing was still damn good in 2016. The TD-INT ratio was a step up from previous years, and while Shanahan's scheme aided his production, Ryan put up his fair share of rainbows. He was also the only quarterback to post at least 100 downfield yards per game (102.9) in 2016.
I don't necessarily think it was the best display of 2016, but all things considered Matt Ryan still had a quality year.
FINAL GRADE: B
Section A-L                                       Section M-R                                    Section S-Z