Introduction
The quarterback draft class of 2012 was one of the best in NFL history. In the same breath as 1983 and 2004, the names include Andrew Luck, Russell Wilson, Kirk Cousins, Ryan Tannehill, Nick Foles, and Robert Griffin III.
Luck and Wilson are universally accepted as the two best quarterbacks from that class. With monster years and a heavy amount of Pro Bowl trips, these two quarterbacks have dazzled us with their playmaking abilities, which have a certain style that we rarely see in the league. Cousins is a limited QB, but has been able to get the most out of his skill set and has put up huge numbers behind a monster supporting cast. Foles and Griffin have long been forgotten after once being young stars for about a year each.
Which brings us to Tannehill. Since 2012, he's been in the shadow of Luck and Wilson, QBs who have had historic seasons when they started out. Many fans and media have now placed Cousins over Tannehill as well, the latter of which has been blamed for the Dolphins' turmoil from 2012-2015, and was perceived as being the product of head coach Adam Gase, known as a QB whisperer for his work with Jay Cutler in 2015.
The truth is that Tannehill is the 3rd best QB from his draft class. Being 3rd behind 2 generational greats in Luck and Wilson is not something to turn away from, especially since Tannehill himself is a really good quarterback.
When Gase took over, there was a perception that he was going to fix Tannehill. In reality, Gase fixed the situation around Tannehill to prevent him from falling into the traps Joe Philbin set him in. Gase created an environment where Tannehill was actually doing things that fit his skill set, being encouraged to push the ball further downfield and calling audibles at the line of scrimmage, something he had never done under Philbin.
When Tannehill went down, Miami's season basically ended. They won a few more games to secure their ticket to the playoffs, but without their starting QB, they faltered in the wild card matchup at Pittsburgh.
Or, at least that's what should be reported. Tannehill's reputation is that of an average quarterback, when he's much more than that. Tannehill is a really good, sometimes great, quarterback who has progressed steadily since 2012, and looking closer, his 2016 season was a great one.
This article will look at why I believe Ryan Tannehill is the NFL's most underrated quarterback, using the usual brand of GIFs and analysis of each GIF.
Supporting Cast
Miami's offensive line is bad, but most people know that by now. The wide receivers are usually talked up as a strong group, yet have been partly responsible for Tannehill having pedestrian stats.
Jarvis Landry is a fine slot receiver, but struggles to get separation downfield and needs to be schemed open to create said separation. Kenny Stills is the best receiver on the team, even though his touchdown drop against the Seahawks was a huge momentum shift.
The real concern is Devante Parker.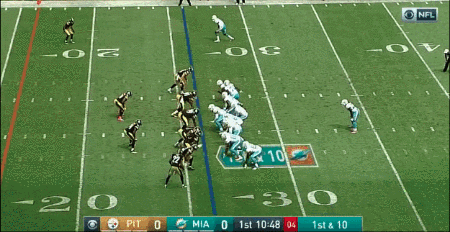 Entering his third season, Parker has an impressive catch radius, but terrible ball skills and security. He's left too many plays on the field, many of which have been perfect throws by Tannehill. On this play, the QB delivers a perfect strike (and what should be a touchdown) to Parker, who has the ball ripped out of his hands for an incompletion. Parker's presence at the catch point is nonexistent at his current stage. He isn't aggressive and doesn't create a big margin for error or a frame to throw to. On a team with one true outside receiver and a guy thats presence is really limited to a slot receiver, that's not a good sign.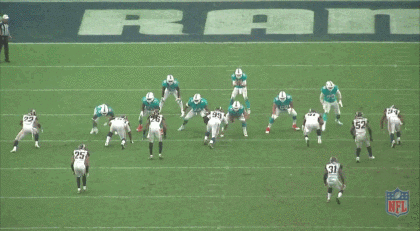 On this play, Tannehill does a terrific job of escaping the pocket, rolls out, and flings a pass over to Parker. While not perfect, the pass is catchable. The way Parker plays the ball is awkward and he never puts himself in a good position to bring it in, making it a lost cause.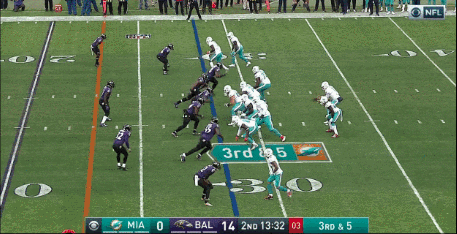 This is perhaps the worst offender. Here, Tannehill fires a beautiful pass. Parker can make it a touchdown by boxing out the incoming safety, giving plenty of room to haul it in. Instead, he plays it the exact opposite, showing zero aggression and letting the safety pick it off cleanly. While an impressive play by the safety, it's more glaring that Parker let him have the opportunity to pick it off.
These are a few examples of the plays Parker left on the field. He needs to start showing more aggression at the catch point if the WR group in Miami wants any chance to improve. Jay Ajayi in the backfield is a clear strong point, but behind a bad offensive line and inconsistent receivers, it may be tough for Tannehill to stay healthy on the field.
With that said, let's get to why #17 is a really good QB by taking a look at what he does well.
Tannehill's Traits
The most common criticism of Ryan Tannehill is that his pocket presence is lacking. This has come mostly from him taking so many sacks. From 2013-2015, he took at least 45 sacks in each season. In reality, Tannehill's sack takes are less on him and more on his offensive line, which has generally been one of the league's worst units. Under Adam Gase, the unit gave their quarterback more room to breathe, allowing his pocket presence to thrive despite what you may be told.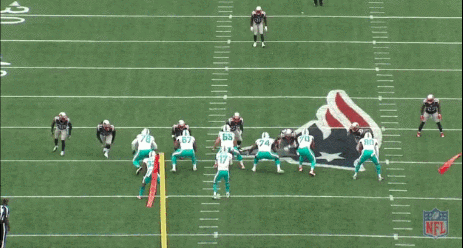 The idea that Tannehill has no pocket presence is a myth. As he's progressed, his movement has gotten significantly better to the point where he hardly flinches in the pocket under pressure. On the play above, Tannehill's pass protection acts more like turnstiles and allows pressure instantly. The quarterback sees this but keeps his eyes up and downfield and shifts slightly to the left to throw. He's able to detect an open receiver and is able to throw a perfect pass to him in stride despite the intense pressure.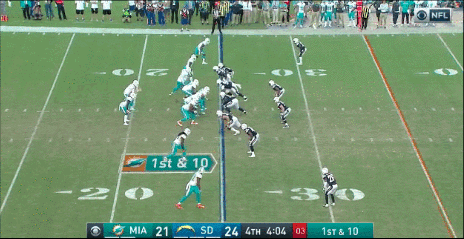 Pocket presence is more than just deciding when to stay or leave in the pocket. In most cases, it requires staying in the pocket and being willing to take hits. Leaving the pocket can work, but it depends on the context of the pressure and if the receivers are open.
RT17 knows this and stands tall in the pocket regardless if he gets drilled or not.
Even just before getting drilled on this play, Tannehill's mechanics stay smooth. If you look closely, you can see that at the last second he plants his feet and gets off a precise pass in time.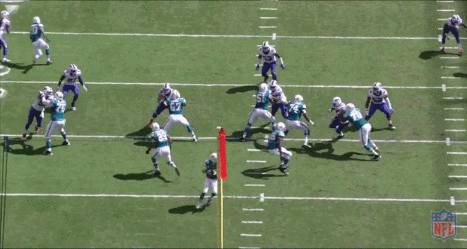 Tannehill is one of the more patient passers in the league. He's a QB that doesn't get rid of the ball quickly, rather allowing the WR routes to develop so that he can get the most out of the play. The problem is that with a bad offensive line, Tannehill's been hit before he can get the ball off to an open receiver. With a better offensive line, his patience would pay off far more than it already has.
Nevertheless, his patience does pay off on this play. He does a great job of reading the coverage and searches downfield before finding a receiver. Tannehill subtly moves to the left before finding the exact right time to fire the ball. As he's hit, the ball sails to where only his receiver can get it, making another perfect pass under pressure thanks to his awareness and movement.
Under Gase, Tannehill's arm strength has become fully realized. This isn't because it's developed, it's because he's playing under a coach that gives him plenty of freedom to take advantage of his wide skill set.
Tannehill has one of the best arms in the NFL, and it was seen in 2016 at its best. With a better scheme, Tannehill's downfield accuracy skyrocketed. On throws of 20+, he was 2nd in accuracy and first in TD%. 
The play above is tougher than it looks. Not only does it require a precise throw, but it also needs the right amount of velocity for it to work. Anything slower would easily be picked off, and anything faster would be overthrown. Tannehill makes it work here. The velocity of the pass is crazy good, but also precise enough where it isn't missing his guy completely.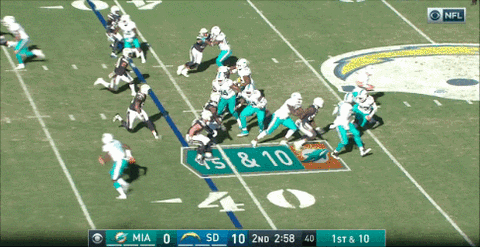 The combined threat of pressure when passing on a play that requires plenty of arm strength gets satisfying when it succeeds. Such is the case on this throw, one of the best ones you'll ever see. Tannehill rolls out of the pocket and gets ready to release the ball. While a defender is just about to pounce on him, he focuses his attention on the open receiver downfield while ignoring the rush. He throws it just before getting hit, and the result is a sensational touchdown pass that should get much more credit than it deserves, especially since it's launched 55+ yards in the air under pressure.
Yet as good as Tannehill is inside the pocket, he is at his best outside of it.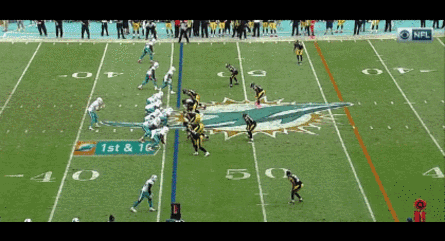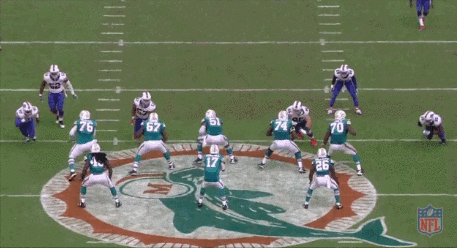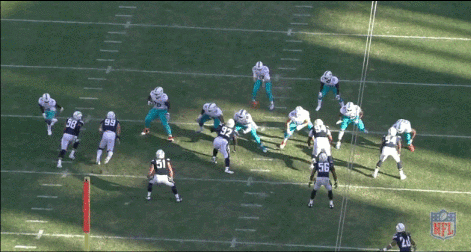 Tannehill is one of the best quarterbacks, if not the best, at rollout passes. His accuracy and confidence all seem to skyrocket when he's on the run, whether designed or undesigned. It's a skill that truly sets him apart from the garden variety quarterbacks.
On each of these plays, Tannehill's awareness and ability to pick out the open man are noticed, but the first play is easily the most impressive. How he's even able to launch that pass in the area from the angle he's at is insane. Like all of his traits, it's something that no one talks about but really needs to.
Conclusion
Ryan Tannehill is the most underrated quarterback in the league. When it comes to finding flaws, there's really nothing I can find. Tannehill is an extremely well rounded, talented, and consistent passer who has finally got the coaching he deserves.
At the same time, however, he is not the product of Adam Gase. Gase has just given him a scheme that allows him to breathe (even if the receivers won't let him), and the result is a far more comfortable quarterback.
Tannehill has always been this good even if people don't give him the respect he deserves. He is the most valuable player on the Dolphins' roster, and a huge reason for their success in 2016. He's able to carry the team under intense pressure, throw his receivers open in tight windows, and has a wide skillset which allows him to play supreme at all fields of the level. He can make any throw you ask of him at any angle because of his arm talent, and he is a master of the rollout.
To my thinking, Ryan Tannehill is a damn good quarterback. A borderline top 10 quarterback.
(Featured image via topbet.eu)