Obscure Studs of the NFL
Previous: Tyrell Williams
Next: Duke Johnson Jr. The Seattle Seahawks have one of the most explosive offenses in the NFL. While the offensive line is at the bottom of the barrel, the skill players themselves are of otherworldly quality. Quarterback Russell Wilson leads the offense with his unprecedented mobility, quick release and downfield passing. RB Thomas Rawls combines blazing speed and aggressive running with technical balance, and rookie CJ Prosise (injured) offers smooth cuts and a more patient running style.
The receivers are highlighted by former Saints star TE Jimmy Graham, who is finally getting his career started in Seattle. His size and ability to square up for the ball make him a nightmare. Tyler Lockett is another problem; his speed and range make him more of an offensive weapon than an exclusive receiver. Paul Richardson and Jermaine Kearse offer quality depth.
Then we have Doug Baldwin, Seattle's #1 receiver. Undrafted out of Stanford in 2011, Baldwin's career wasn't really looked it until he experienced a turning point in the 2nd half of the 2015 season. Baldwin caught 11 touchdowns in the Seahawks' last 6 games to become the league's hottest receiver over that stretch. Baldwin finished 2015 with 78 receptions for 1,069 yards and 14 touchdowns (the latter tied for the season high).
Baldwin's 14 touchdowns in 2015 are not only the Seahawks' record for the most in a single season, but also the most in a single season from an undrafted receiver in NFL history.
This season, with Graham, Lockett, and Rawls exploding, Baldwin isn't getting massive workloads, but he's still having a successful season stat wise. In 2016, he has 79 catches for 913 yards and 6 touchdowns through 14 games.
Because of the statistical success, TV analysts have given Doug Baldwin more attention, the attention he deserves. I'm here to argue that Baldwin is not only a really good receiver, he is also an elite one at that.
To be an elite wide receiver, it's less about the statistics and more about the skill set. The best wide receivers have a wide skill set that allows them to be used at pretty much every side of the field. They don't need to be schemed open or have specific play calls that mask their limitations.
As you may have guessed, Baldwin has a wide skill set in spades. Though he is primarily used as a slot receiver, his skill set shows much more than just a slot guy, as documented below. So sit back and see why Baldwin is secretly one of the league's elite receivers.
Route Running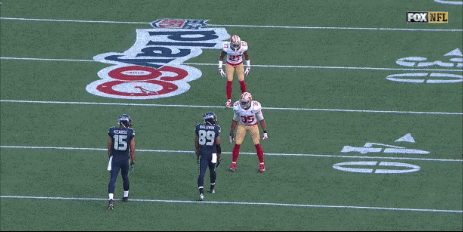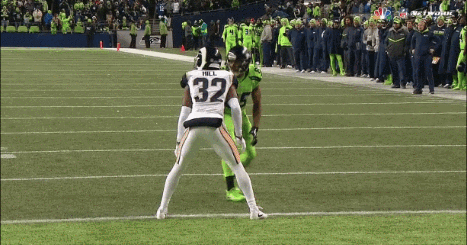 When watching Baldwin, you'll often hear about his expertise as a route runner. Baldwin's route running ability is patient and rewarding, making him among the top receivers in the league. He has a dangerous combination of shifty running and strength that make him such a great #1 receiver.
In the first GIF, Baldwin runs the double move perfectly. The safety, Eric Reid, brushes off Baldwin's first move and guards Kearse, but this gives Baldwin plenty of space to fake out corner Keith Reaser. Reaser takes a poor angle on the double move, allowing Baldwin to make an easy catch for a huge play.
In the 2nd GIF, Baldwin matches up in the redzone with Patriots corner Logan Ryan. Baldwin understands it's difficult to get separation with ordinary moves in the redzone, so he pushes Ryan (legal at 5 yards after the line of scrimmage). Baldwin is only 5 ft 10 and 189 lb, yet shows off impressive strength for his size. He uses that strength to give himself separation, allowing Wilson to fire an easy touchdown pass.
In the last GIF (which many of you have no doubt seen by now), Baldwin pulls an amazing move on corner Troy Hill, who gets his ankles broken. It almost looks like Baldwin pulled a Jedi Mind Trick on the corner, and he uses this separation to provide the easiest touchdown pass of Russell Wilson's career.
Ball Skills And Approach To The Ball Doug Baldwin has impressive ball skills that would point to an elite receiver. His approach and aggression make up for his small size and gives his quarterback a large cushion.
In the first GIF, Baldwin creates separation easily by jabbing his right foot, pushing off it, and cutting outside towards the sideline. It's important to note the angle he uses to grab the ball. Baldwin's angle looks awkward at first sight, but it is actually the correct approach. This way, he can focus less on trying to secure the ball in his hands and more time looking for yards after the catch.
Wilson fires an accurate pass in the 2nd GIF, but Baldwin is held on the play (hence the flag seen in the GIF). Nevertheless, Baldwin makes a fantastic diving catch to save the play, diving at the right time. In the 3rd GIF, Baldwin is able to win his matchup with Malcolm Butler and make an impressive sideline catch. Baldwin is smart; he understands how to use his feet and when to use them. In this case, #89 slides on his knees near the sideline, allowing him to make the catch and stay in bounds. Baldwin's approach also includes a lack of business decisions. In the GIF above, Baldwin takes a vicious hit from Calvin Pryor (penalized for unnecessary roughness), but miraculously hangs on to the football. Baldwin plays tough, and because of this is able to concentrate more on keeping his eyes on the football than on an incoming hit.
Speed Baldwin's small size makes him a great YAC receiver as well, primarily for his speed. In each of these 2 GIFs, the receiver showcases his nimbleness and speed, providing some hops in the last GIF.
Athleticism
The speed section, though a bit vague, leads into Baldwin's athleticism underneath. He's strong, nimble and patient, giving him a diverse skill set when seeking YAC.
However, having an impressive amount of athleticism means nothing if you're just using it mindlessly, which is what a lot of receivers in the league do. The top receivers know how to use their skill sets at the right place and the right time, and Baldwin does that.
In the GIF above, Baldwin stops himself 1 yard ahead of the line of scrimmage on a screen. Baldwin uses his patience and awareness to find a hole, then bursts through and makes another cut to get a massive gain. In interviews, Baldwin has mentioned field awareness is important for being a good wide receiver. Guys that make moves blindly cost their teams valuable yardage and first downs, and in some cases, yes, touchdowns.
Baldwin is able to use his field vision and athleticism in both of the GIFs above. In the first GIF, Baldwin pushes off his left foot after the catch to elude two defenders, breaking a tackle and working the sideline to get a first down. In the 2nd GIF, #89 shows off incredible balance to break a tackle and elude an incoming one, getting a great block from Kearse as he again works the corner for a big gain.
Baldwin's athleticism is smooth and pleasing to the eye, and he provides technique you won't get from many first round receivers in the league. Baldwin's strength proves you can't judge a book by its cover. He may be small, but as aforementioned, he's also tough to bring down. In the GIF above, Baldwin breaks two tackles and bursts to the end zone with his speed to seal the game for the Seahawks with long game clinching touchdown. Baldwin's balance and athleticism come at their peak on this play in the infamous 6-6 game at Arizona. On a critical 3rd down, Baldwin converts the first down, breaks a tackle, and jump cuts to get more yards after the catch on an unreal play. He's able to concentrate on getting yards while staying in bounds, and this play likely would've been talked about a lot more had the Seahawks' made the field goal that came soon after.
Conclusion
Doug Baldwin is an elite wide receiver. The stats (with the exception of 2015) don't show it, but his wide skill set does. With diverse ways to win routes, a great approach to handling the ball, speed, nimbleness, and vast situational intelligence, Baldwin's talents make it hard to believe he was never drafted.
Baldwin has always been an elite receiver. This isn't a recent trend of luck. He's simply getting the ball more and thus is allowed to win in more critical situations than in past years. This is a guy that overcame the odds, became part of a Super Bowl winning team, and worked hard and aggressively to get the opportunity to play for the Seahawks and be the team's #1 receiver.
And now he's finally getting the respect he deserves. And it's an absolute joy to watch him on every opportunity he gets.
(Featured image via seattletimes.com)
Obscure Studs of the NFL
Previous: Tyrell Williams
Next: Duke Johnson Jr.