You read the headline correctly. No this is not a hot take. This is not an article about stats. This is not even an article about wins.
You're probably wondering if I've lost my mind right now, and I don't blame you. Someone with the perception Sam Bradford has had being an MVP candidate is strange enough, but MVP frontrunner? Perhaps I've gone off the deep end, and perhaps I've lost my mind.
If that's the case, so be it.
INTRODUCTION
The 2016 Vikings have come to the forefront of the NFL and shocked everyone by jumping out to a 5-0 start without Teddy Bridgewater, Adrian Peterson, and with one of the worst offensive lines in the league. A big reason for this is the defense. Currently ranking 1st in scoring defense and 2nd in yards allowed, what was once one of the worst units in the league in 2013 has become one of the elite defenses thanks to head coach Mike Zimmer.
But while the defense has gotten a lot of credit (and rightfully so), it is Bradford's play that has made the Vikings the best team in the league thus far.
Looking at the stats, Bradford's completed 70.4% of his passes (leading the league) for 990 yards, 6 TD, and 0 INT through 4 games. Looking at these stats would suggest Bradford's role has been that of a game manager, but I'm here to tell you that's not the case.
When Bradford was traded to the Vikings by the Eagles before the start of the season, no one expected him to learn the playbook as quickly as he did. The team wisely chose to start Shaun Hill in week 1 so that Bradford would be given time to adjust to his new team. Once week 1 was finished, Zimmer knew right away #8 would be the starter.
Right away, the quarterback proved to be a perfect fit for Norv Turner's offense, doing things Teddy Bridgewater could not do. That's not a knock on Teddy either. Teddy is a very good quarterback that was suffocated through his first 2 seasons because of a horrible offensive line and lack of fit in Turner's vertical offense, instead thriving in intermediate passes. The offense never adjusted to fit Teddy's skill set in 2015, giving him an undeserved reputation of being a game manager and a bad quarterback.
Because of Bradford's arm talent, he has thrived in the offensive scheme the Vikings have.
THE SHAUN HILL FACTOR
Now, before I get to why Bradford is my MVP frontrunner, I want to take a look at Shaun Hill's performance from week 1, since many people are probably wondering how he compared. The Vikings won that week but Hill's accuracy was really bad, and that's not even accounting the 54.5 completion percentage. He was constantly missing open guys and forcing the ball under pressure, being lucky to escape without any turnovers.
While the Vikings put up 25 points, Hill rarely did anything to help justify it. The Vikings defense scored a TD on a pick six and another one on a fumble recovery. The pick six occurred while the team was trailing 10-6, and the fumble return helped put the game out of reach at 22-10 (at the time). In the 2nd G
Shaun Hill struggled to move the chains forward and deliver the ball quickly, a trait that's in Norv Turner's offensive scheme with the Vikings. That hasn't been the case with Bradford.
BRADFORD MAKES THE VIKINGS OFFENSE WORK
Bradford has been a very accurate quarterback in 2016, but it's not something he hasn't done before. If you follow me, you know I've done extensive research on Bradford's past seasons, where it has been proven he has been very accurate for his entire career. Even in that trainwreck 2015 Eagles season, Bradford was one of the lone bright spots for the team despite what most people would suggest. His receivers would constantly fail him at the catch point, and the offensive line and play calling never set him up for success.
In Minnesota, while the offensive line still sucks, the receivers have been able to catch, and the play calling has been tweaked to fit Bradford's skill set, demanding quick throws and a more vertical style of passing offense. Bradford has managed to take care of the ball extremely well while fitting the ball into tight windows under aggressive pressure, a remarkable achievement.
BRADFORD HAS EXCELLED UNDER PRESSURE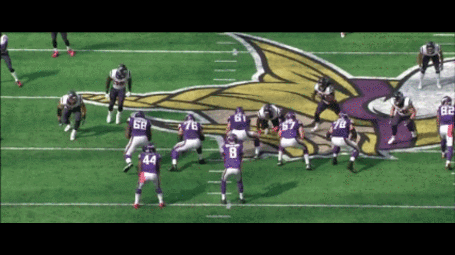 When the Vikings traded for Bradford, they did it because they needed a quarterback that could play under pressure. Despite the awful offensive line, Teddy Bridgewater has played great under pressure in his career, making huge plays to move the chains forward and taking care of the ball without putting the team in harms way.
Bradford is doing the same thing. In the first GIF, Bradford delivers under pressure on a wonderful TD pass to Stefon Diggs. I've already described this from the Week 2 article on Bradford, so you can check there for more details, but it's still a great play from the QB.
The next 2 GIFs are placed into one slideshow (because WordPress won't loop my GIFs for some bizarre reason). The first shows how a typical looking throw is actually spectacular when put into context. On 3rd down, Bradford got drilled as he was passing, but incredibly took the hit and placed the ball perfectly for his receiver to go get the first down. 3rd downs have been big for Bradford this season, as Football Outsiders back on the 13th ranked him 7th in 3rd down conversions.
In the 2nd GIF, a defensive end is about to tackle Bradford, who is able to offer beautiful ball placement to Adam Thielen, who makes a terrific one handed catch while being interfered with.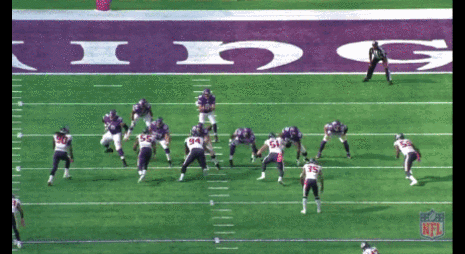 In these next 2 GIFs, the Vikings put Bradford's OL under pressure yet again. As aforementioned, however, Bradford has done a great job of setting his feet and preparing to take hits, concentrating only on getting the ball out of his hands both quickly and precisely. These 2 passes are great because of the situation surrounding the QB, and offering this kind of placement under heavy pressure has been massive for the pass game.
QUICK THROWS
Speaking of quick throws, that's another reason why Bradford has thrived in Minnesota. Unlike in Indianapolis where the routes develop slowly, preventing the QB from getting the ball off, the Vikings' routes develop quickly, allowing Bradford to get the ball out even under pressure.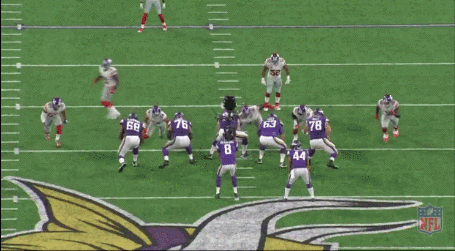 The QB has to set himself up quickly on those plays otherwise it wouldn't work, and Bradford executes these three plays beautifully. In the first GIF, Bradford offers a quick diagonal strike to Diggs as he's cutting across the middle. Bradford dances around in the pocket to make himself comfortable, then when he sees the opportunity, quickly plants his feet and strikes to Diggs for a big gain.
In the 2nd GIF, he barely has time to plant his feet as he's backdropping, but executes it wonderfully thanks to a great precision pass to Charles Johnson. As he's backdropping he throws the secondary off by surveying the right side of the field before turning and firing to Johnson. In a similar manner, the 3rd GIF showcases Bradford play faking before immediately setting his feet and firing a beautiful pass to his receiver.
MANIPULATING DEFENSES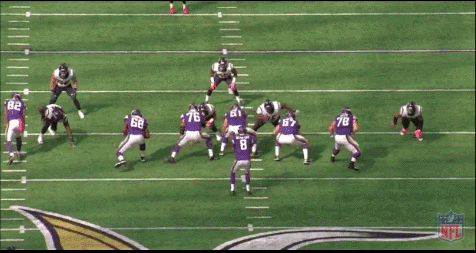 Bradford has been excellent at manipulating defenses this season, leading defenders with his eyes before exposing them by turning the other way or fooling them with his mechanics. In the first GIF, Bradford pump fakes after the snap, which halts the secondary and allows Thielen to get open, allowing Bradford to deliver the precision pass for the touchdown. In the 2nd GIF, Bradford's eyes survey the middle of the field before he turns and fires to an open Charles Johnson. For some reason, instead of powering forward, Johnson elected to cut to the middle of the field. I felt he would have had a touchdown here had he kept going, even though they scored on the next play.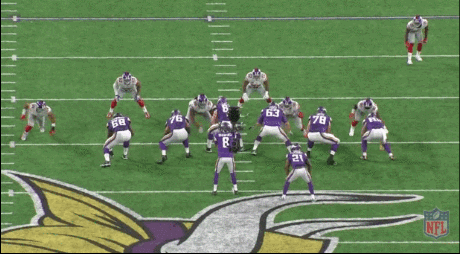 In this next GIF, the defensive back in the middle is watching Bradford's eyes carefully. Bradford steps back and dances in the pocket, then when the receiver passes the defensive back, Bradford quickly sets his feet and fires a strike, fooling the coverage and allowing for a big pass play.
DOWNFIELD DIMES
Bradford is one of the best downfield passers in the league, confirmed when he ranked as the 3rd best deep passer in the 2015-16 Deep Ball Project. His arm talent is a big reason for it, but it's the precision that matters, and Bradford has consistently managed to place the ball perfectly out of the defender's reach throughout his career.
Since I used up most of the deep passes already, These two are the leftovers, but they are great leftovers nonetheless. The first pass is beautifully placed in between two defenders, high enough so the first defender can't reach it, and far enough that the second defender can't make a play on it. The 2nd GIF is perhaps Bradford's best downfield throw yet, throwing a cannon that allows Diggs to run up and make a play without being in the way of a defender. Even more impressive is how quickly Bradford gets the ball out of his hands, considering the pressure around him. Beautiful play.
WHY NOT OTHER CANDIDATES?
You may be wondering why I haven't listed any other obvious candidates for MVP. This short section of the article will detail that.
Matt Ryan is a favorite to win MVP, but while he's been impressive, I don't think he's been the frontrunner. His arm strength has never been top tier, but it's looked to be declining. In addition, Ryan's made inaccurate throws that his receivers still manage to catch, and got away with a few bad misses.
Matthew Stafford is another popular candidate, and similarly to Ryan, has gotten away with a few bad mistakes of his own. He's definitely played well, but his numbers have been massive in part thanks to the quality of the scheme and receivers around him. Jim Bob Cooter's offense has emphasized short throws and screen passes to a legion of great YAC receivers such as Golden Tate and Theo Riddick, and Anquan Boldin and Marvin Jones have been great margin for error increasing additions this past offseason.
Ben Roethlisberger was my candidate before this week, but thanks to his health and the quality of his play against the Eagles and Dolphins, has slipped a bit in the rankings.
Russell Wilson has been mostly great this season, but managed to only have solid, not great, games against the Rams and Falcons. His decision making was definitely better in the other games.
Derek Carr has been overrated this season. While I consider him a solid quarterback, the quality of his surrounding cast is unbelievable, with one of the best offensive lines and receiving units in the league, as well as an improved running game. He's made plenty of great difficult throws, but his ability to take care of the ball has faltered a bit in the last 2 games, and he's been lucky not to have more picks than he already has.
Tom Brady has only played 2 games.
CONCLUSION
When you get right down to it, no quarterback has been as consistently great this season as Sam Bradford has, despite the fact that he's only played 4 games. All 4 of his performances this season have been superb, displaying perfect precision passing, masterful footwork, and exceptional play under pressure.
Bradford is a smart quarterback. When put in a comfortable situation he can excel, and while the situation in Minnesota isn't perfect, it's the best one he's been in thanks to the structure of Norv Turner's adjusted playcalling. His decision making has been excellent as well as the most consistent, and along with the Vikings defense, has been a huge reason why the team is 5-0.
This week, Bradford will return to Philadelphia to face the Eagles. A win and/or a strong performance against his old team would certainly make his case for MVP a lot better for voters. Perhaps his legacy will be on the line as well.
Regardless, Bradford deserves MVP consideration at the least, and I think he's the MVP so far this season.
(Featured image via ChicagoTribune.com)